SportDog Collar Buying Guide 2023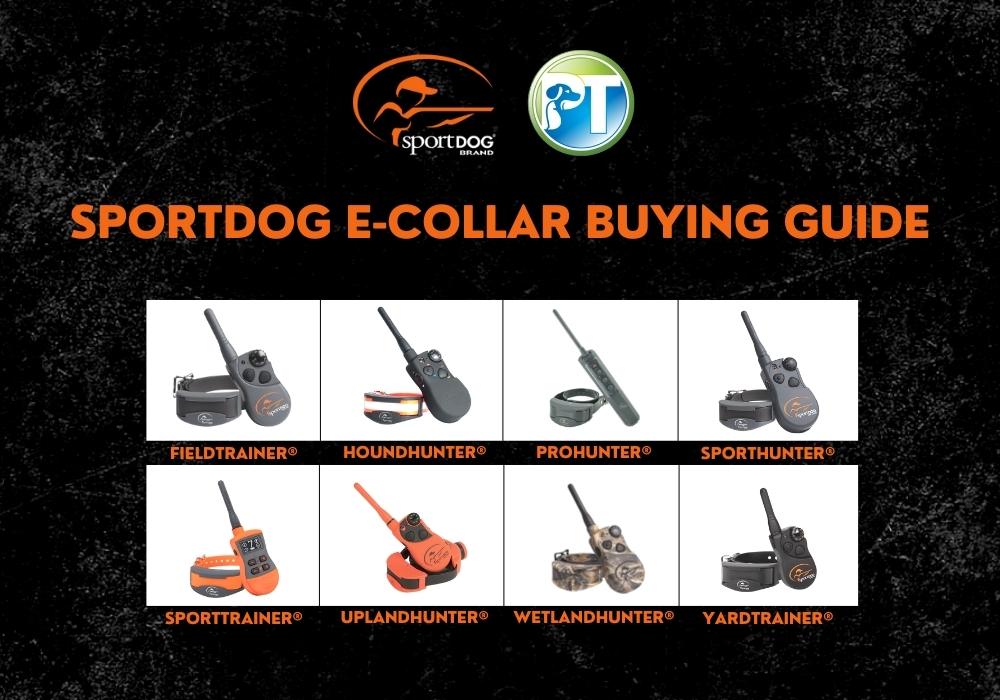 This article was updated on January 14, 2023.
Buying an e collar, whether it's your first one or you're upgrading from an older model, shouldn't be hard. After all, there are so many different brands and models to choose from. In reality, though, the purchase of a dog training collar does take some thought. And the very many products available in the market can sometimes add to the confusion.
We've already talked about what you can expect from such respected brands as E-Collar Technologies and Dogtra. We'll now go over one other brand that inspires confidence in dog trainers, hunters, and regular pet owners alike – SportDog.
(Pressed for time? Skip to the bottom for a handy buying chart.)
Who is SportDog?
The SportDog brand was created in 2003 when Radio Systems Corporation decided to venture into the sporting dog market. The people behind the brand pride themselves that all their products were designed and rigorously tested "in the field." This dedication to producing top-of-the-line, high-caliber products led to SportDog collars being one of the most recognized brands in the industry.
Features of SportDog Training Collars
What can you expect from SportDog e collars?
SportDog's newest lines of remote training dog collars are grouped into what they're calling the "X-Series." Models sporting the "X" tag in their nomenclature typically come with these features:
21 Static Stimulation Levels
SportDog X-Series models all have 21 levels of static stimulation that allow handlers to fine-tune the settings and find just the perfect correction level to match the temperament of their dogs.
Tone and Vibration
On top of static, X-Series models also have tone and vibration. This allows trainers and dog owners an alternative should they not want to use static correction. Tone and vibration can be used in conjunction with static or by themselves.
"No-Look" Remote Transmitter
All X-Series models were designed with ease of use in mind. As such, remote transmitter buttons are strategically placed to allow no-look operation. This translates to greater focus on the dog and into more consistent and immediate corrections.
Waterproof
SportDog shock collars are waterproof and submersible up to 25 feet using their patented DryTek® technology.
Expandability
All X-Series models are expandable units. With the purchase of additional collars, almost all the available models will let you add up to 3 dogs to the same system. Some can even handle up to 6 dogs at once.
Rechargeable
SportDog remote trainers are equipped with a rechargeable lithium-ion battery. The set charges in as little as 2 hours, ensuring you spend more time training and less time getting your gear ready.
Factors to Consider before Buying a SportDog E Collar
What SportDog collar do you need?
Learning how to train a dog with a shock collar is just half the battle. You also need to choose an e collar that will help get the job done. More important, you want an e collar that is safe and humane to use on your pet. SportDog has you covered in this regard.
To find out which SportDog e collar is best for your dog, you must first consider the following factors.
Breed
What breed is your dog? 
While SportDog collars generally fit all breeds, some models are more especially suited to certain dogs. For example, the WetlandHunter® series is best for waterfowl-hunting environments and will be best used for retrievers and hounds.
Purpose
What are you using the e collar for?
In this case, it's important to answer how you intend to use the e collar. An e collar meant for teaching basic commands is different from an e collar for eliminating nuisance barking. In the former, any of the X-Series could work. But in the latter, you'd be better off getting a SportDog bark collar instead.
Range
Purpose directly impacts range as well. Specifically, where are you using the e collar?
Basic obedience training, for instance, can be done in the home or the yard. In this case, a 500-yard range is more than sufficient. However, if you are training hunting dogs, a 1/2-mile range will allow you to reach your dog farther.
The range for remote dog training collars is based on what is called "line of sight." This means a flat terrain with no obstacles will give you better range and signal consistency versus one with a lot of interference. So ½ mile may sound like a long-distance, but variables can still limit that. And when you're in unpredictable terrain, the extra reach of a 1-mile e collar may serve you better.
Choosing the Right SportDog E Collar
There are currently 3 main SportDog X-Series remote training dog collar product lines:
FieldTrainer® - includes the 425X and 425XS
SportHunter® - includes the 825X, 1225X, and 1825X
WetlandHunter® - includes 425X Camo and 1825X Camo
In addition to the X-Series, SportDog also has the following product lines:
SportTrainer® - 575, 875, 1275 and their respective orange versions, 575E, 875E, and 1275E
UplandHunter® 1875
ProHunter® 2525
HoundHunter® 3225
SportDog also has a line of GPS-enabled e collars called the TEK Series. This includes:
TEK V1.5L
TEK V1.5LT
TEK V2L
TEK V2LT
Finally, SportDog has the YardTrainer® line of products:
How are these SportDog e collars different from each other?
FieldTrainer®
The FieldTrainer is SportDog's smallest and lightest e collar. If you're on the lookout for what SportDog e collar to get for training and hunting, these e collars are ideal. They're great for in-the-field training or hunting with close-working dogs.
Both the SD-425X and SD-425XS have a range of 500 yards and can support up to 3 dogs (with the purchase of additional collars). The difference lies in the "S." In this case, S stands for Stubborn. While both have 21 levels of static stimulation, dogs with more stubborn temperaments will be better served by the 425XS as it has a higher range of static available.
SportHunter®
SportDog initially entered the remote training collar industry to produce gear for sporting dogs. So, if you're looking for what is the best e collar for hunting dogs, you won't go wrong with this brand.
Case in point: the SportHunter® line of e collars. These are designed especially for hunting dogs. These collars have a longer range compared to the FieldTrainer® family.
The smallest and lightest of the lot is the SD-825X which comes with the shortest range at 1/2 mile. The SD-1225X is the mid-level e collar and can support up to ¾-mile. Finally, the SD-1825X has the farthest range at 1 mile and can support up to 6 dogs at a time.
WetlandHunter®
If you're more inclined towards hunting waterfowl, then how to find the right e collar for wetland hunting may be your top priority. The WetlandHunter® series is just what you need.
It takes some of the most popular SportDog models and gives it a perfect camo finish for the wetlands. The SD-425X Camo maintains the 500-yard range and 21 levels of static stimulation that the 425X has. It also comes with 4 stimulation types: constant stimulation, nick stimulation, vibration, and tone. But instead of the black finish, this sleek e collar system is sporting the Realtree Max-5 Camo Finish.
The SD-1825X Camo also has the same features as the 1825X, including the 1-mile range and stimulation levels. This remote training collar also has the Realtree Max-5 Camo Finish, typical of WetlandHunter® models.
Outside of the X-Series lines, we have the following product models.
SportTrainer®
The SportTrainer® line bridges the gap between the FieldTrainers and the SportHunters. If you're searching for the best e collars for training and hunting, the SportTrainer® is it. These products work great for basic obedience training but will also do well in hunting environments. One notable point of difference, though, is the number of stimulation levels SportTrainers come in. 
For example, the SD-575 and its orange version, the SD-575E, feature a 500-yard range and low to medium power output. Both are expandable up to 2 dogs.
The SD-875 and SD-875E both have a ½-mile range, low to medium power output and are expandable to 3-dog systems. The SD-1275 and SD-1275E, meanwhile, have ranges expanding to 3/4-mile and are expandable to 6-dog systems.
All the above models only come with 10 static stimulation levels, which is less than available in all X-Series models.
UplandHunter® 1875
Looking for a combination e collar and beeper? SportDog has it, too. The UplandHunter® SD-1875 is an e collar and beeper combo designed for training hunting dogs with a beeper that allows the trainer to locate their dog with ease while out in the field. 
ProHunter® 2525
If you're in the market for a hunting dog collar with good range, there is the ProHunter® SD-2525. This model has one of the longest ranges available for a SportDog collar. With a 2-mile range, the SD-2525 is excellent for hounds and running pointers.
HoundHunter® 3225
The HoundHunter® SD-3225 features a 2-mile range similar to the ProHunter. However, it only comes with 7 levels of low to high static stimulation. One thing it does better than the SD-2525, though, is it's aesthetically better-looking, with a more compact remote transmitter and vibrantly colored collar receiver.
TEK Series
SportDog's TEK Series is the most technologically advanced of all SportDog e collars. These collars utilize GPS technology. What is a GPS e collar?  GPS collars are remote training collars with a GPS function. Using the signal from the receiver collar, they let you know your dog's location all the way out to 7 or 10 miles, depending on the model. They also can tell you if your dog is running or stopped.
SportDog has GPS-only collars that function as a trackers. They also have GPS + E-Collar systems that allows you use the system like a regular remote trainer with the added GPS functionality.
YardTrainer®
Finally, we have the YardTrainers – YT-100, YT-100S, and YT-300. If you've been wondering what is the best training collar for small dogs, these fit the bill.
YardTrainers are precisely what the name suggests. They're ideal for small canines needing basic obedience training in homes, yards, or parks. Both the YT-100 and YT-100S can cover a range of 100 yards. The "S," of course, stands for Stubborn. So if you have a more strong-willed pupper, the YT-100S is best. If your dog is more timid or of normal temperament, the YT-100 should be okay.
The YT-300 has a 300-yard range if you need a basic dog training collar with more distance to it.
Summary
SportDog's tagline is "Gear the Way You'd Design It." The people behind this company are dog owners, trainers, and hunters. This is why they made sure all products they put out were products they'd use themselves. As such, finding a system that will work specifically for what you and your dog need should not be hard. So, which e collar is best? It all depends on your dog and what you need the collar for.
And as we always like to remind everyone, e collars, shock collars, remote dog trainers, or whatever you prefer to call them are not magic devices that will transform your dog overnight. But if you put in the time and effort to train your dog correctly and consistently using the right tools, you'd be rewarded with perfectly behaved and obedient dogs.