SportDog No Bark Collars – A Comparative Review of the 3 Best Models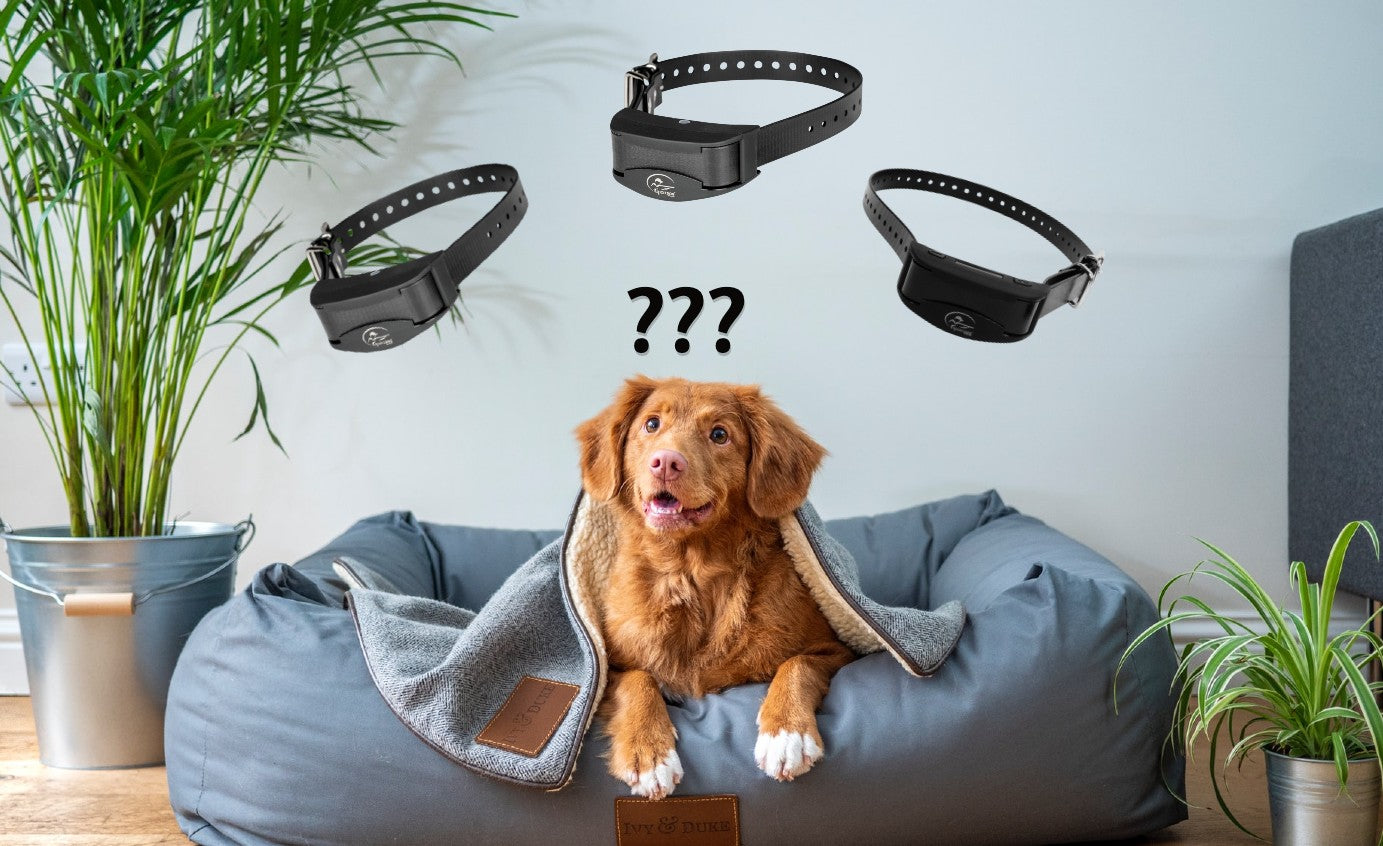 Nuisance barking is annoying, both for you and your neighbors. In some places, 30 minutes of straight barking or barking between "quiet hours" can get the dog owner in trouble with the building management.
More than that, it's potentially harmful to the dog. Excessive barking can damage a dog's vocal cords—inflamed larynx results in laryngitis, sore throat, and a hoarse bark. Thankfully, dogs can unlearn this annoying habit with due diligence, consistent training, and bark collars.
What is a bark collar?
Bark collars, also known as anti-bark collars or no bark collars, serve as a deterrent to persistent barking. Using different types of stimulation, they work by distracting the dog from barking. With proper training and regular use, dogs learn to bark only when necessary.
There are many different kinds of bark collars available today. Some use static stimulation or shock, spray collars that use citronella- and lemon-scented sprays, those that utilize vibration, and collars that use beeps and ultrasonic tone.
For this review, we'll focus on one of the most popular and reputable brands for bark collars today – SportDog.
Who is SportDog?
The SportDog Brand was established in 2003 by dog owners and hunting enthusiasts. Their tagline, "Gear The Way You'd Design It," is their guiding principle in creating dog collars specifically designed to withstand challenges that come with the hunt. Over the course of a few years, the SportDog brand has expanded to include various dog tracking and training gear.
With such dedication to producing quality dog collars, it's no wonder that any best bark collar list is incomplete without at least one SportDog item.
In this blog, we'll focus on the three (3) popular bark collar models by SportDog – the SBC-R, SBC-10, and SBC-8. All three look pretty much the same on the surface. So how does each differ from the other, and which one will work best for your dog? Here's a quick summary of features that each model has to help you decide.
Is the extra $10-$30 between models worth the additional features? Why do you need more than 1 training mode anyway? Is a rechargeable no bark collar better than one with a replaceable battery? Let's take a deeper dive.
Feature Highlight #1: Training Modes
What does no bark collar training mode mean? Quite simply, training modes are your options regarding how you want to do the training. For example, some collars have static stimulation while others have vibration or tone. Some have all three. Some have none of them and use spray instead. Training mode can also refer to how you want the stimulation to be delivered.
In the case of SportDog's no-bark collars, there are three different training modes available:
Temperament Learning – correction starts at the lowest level and gradually increases if the dog's barks come within 30 seconds of each other. The collar will remember the level at which the dog finally stopped and start the correction the next time they bark.
Progressive Correction – Same as temperament learning. However, the setting will always go back to the lowest possible setting if the dog doesn't bark after 30 seconds.
User-Selected – the setting is pre-set by the pet owner and won't adjust until it's done manually.
All three also come with a safety feature that automatically stops issuing a correction if the dog barks continuously for 80 seconds. This will reset the collar for half a minute before returning to regular operation.
As stated in summary, the SBC-R has the most training modes available, with all three options thrown in. The SBC-10 does not have Temperament Learning mode. The SBC-8 only has Progressive Correction.
If you're unsure what kind of no-bark training will be best for your dog, it may be best to err on the side of caution and choose the model with the most options as to how the correction is delivered. However, if you've tried using an anti-bark before and are confident about the methods to use, then choosing one with lesser options could work for you.
Feature Highlight #2: Levels of Stimulation
All three SportDog NoBark models only come with static stimulation (hence, people sometimes refer to it as a shock collar). Both the R and 10 models come with 10 levels, and the 8 comes with, well, 8. We feel that when it comes to stimulation levels, more is always better. Would you be using all the levels? You most likely won't. So why do you want more?
The answer is customizability. Limited levels mean higher jumps in the static between them. So level 1 may not be enough to trigger a reaction, but level 2 may be too strong. More levels mean you get incremental static level increases, and you can find the perfect level for your pet.
So, in this regard, the SBC-R and SBC-10 have a bit of an edge over the SBC-8.
Feature Highlight #3: Battery
Both of the more expensive models have rechargeable batteries. The upside to this is you save on costs because you don't have to keep buying batteries every so often.
That being said, there are also advantages to using a bark collar with replaceable batteries instead of rechargeable batteries. For one, you save time by not worrying about charging the collar. It's pretty much always on and ready to use. The lack of a charging port also means water tightness is not compromised.
The SBC-R and SBC-10 are both rechargeables. The SBC-8 has a replaceable battery that can last up to 200 hours.
Other Features and Extras
The SportDog NoBark collars are not just limited to the three features highlighted above. A few others they all share are:
Silent Partner™ Technology – identifies the dog's unique bark and filters out other sounds. This is great, especially if you live in a noisy neighborhood or if there are other dogs in the house.
DryTek Waterproof Design
However, it must be noted that while all of the three models are waterproof, the SBC-R is only submersible up to 10 feet. The SBC-10 and SBC-8 can both be submerged up to 25 feet. This may not be a deal-breaker, though, if you don't live near the water or do not see your dog spending time in wet conditions.
Finally, the SBC-R has an OLED display that shows the mode of operation and battery status. The other two do not.
Complete Features and Specifications:
3 Programmable Training Modes
10 Correction Levels
Auto-Shut Off
3 Color Indicator Lights
DryTek Waterproof Design
Rechargeable Battery
For Dogs 8lbs and Larger
Collar Receiver without strap - 2.75"L X 1.125"W X 1.125"H
Pros:
(+) Programmable training modes
(+) Unique bark detection technology
(+) Great battery life
Cons:
(-) Only comes with static stimulation
(-) A bit pricey
Complete Features and Specifications:
2 Programmable Training Modes
10 Static Correction Levels
Auto-Shut Off
DryTek Waterproof Design
Rechargeable Battery
For Dogs 8lbs and Larger
Collar Receiver without strap - 2.75"L X 1.125"W X 1.125"H
Pros:
(+) Waterproof up to 25 feet
(+) Great battery life
(+) Less pricey than the SBC-R
Cons:
(-) Only 2 programmable training modes
(-) Static stimulation only
(-) No LED screen
Complete Features and Specifications:
8 Static Correction Levels
Silent Partner™ Technology
Auto-Shut Off
DryTek Waterproof Design
Replaceable Battery
For Dogs 8lbs and Larger
Collar Receiver without strap - 2.75"L X 1.125"W X 1.125"H
Pros:
(+) Simple, easy-to-use design
(+) Cheapest SportDog® Brand no bark collar
Cons:
(-) Only 1 training mode
(-) Static stimulation only
(-) No LED screen
(-) Non-rechargeable battery
(Check out our full review of SportDog's No Bark collars and how they compare with other brands here.)
Will a Bark Collar Stop Barking and Whining?
Before we conclude, let's just quickly go over two of the most common questions in relation to bark collars – will a bark collar stop ALL barking? And, will a bark collar stop whining, howling, and other annoying dog sounds?
Any responsible pet owner knows that barking is natural to dogs. So, you don't want your dog to stop barking for good. However, with proper training, dogs can learn when barking is okay and when it is not. A bark collar can definitely help get rid of the nuisance barking if appropriately used.
Howling, whining, yodeling, and other constant and intermittent sounds create different throat vibrations than barking. Because these collars specifically are equipped to monitor for barks, they may not be the best solution if your dog is more of a howler.
Conclusion
SportDog® is one of the more reputable brands in the pet supply niche. Their NoBark models are some of the best in the market today. When choosing among the three models above, it may all come down to needs and preferences. But rest assured that no matter which one you choose, you'll have a genuinely excellent and reliable product that will help your dog.