What is an E Collar for Dogs?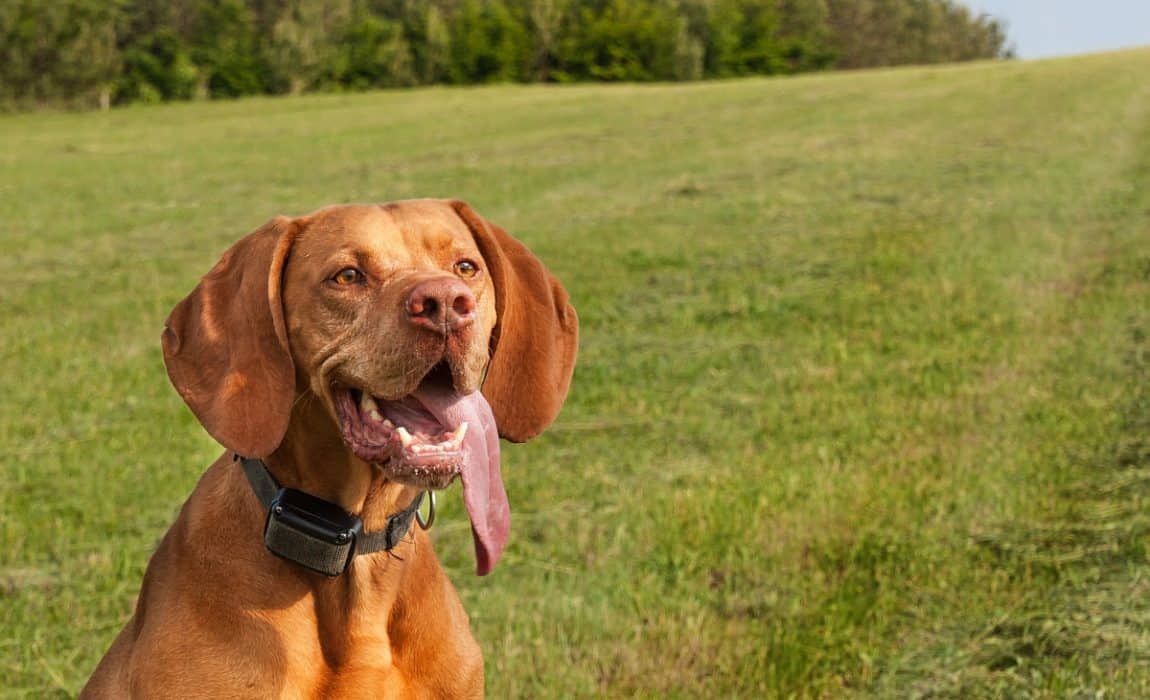 If you search for the term e collar, you'd most likely get two very different results. You'd either get this picture:
Or you'd get this:
Photo: Petstek.com
The first one is a dog cone, also known as the "cone of shame," invented in 1962 to wrap around a dog's neck. It is meant to provide a barrier and stop dogs from licking incisions and wounds, thereby preventing infection. The "e" in this case stands for Elizabethan. It's hardly a torture device.
The second photo, however, does get a lot more criticism. Also known as a "shock collar," these e-collars have been around for years. But do they deserve the hate?
What is an E Collar?
An e-collar, electric collar, or shock collar also goes by remote training collar. As the name implies, it's a training collar. Unlike a regular dog collar though, it delivers electrical stimulation to the dog's neck through a remote transmitter.
Photo: Petstek.com
During the 1960s, e-collars gained prominence as a way to train hunting dogs. These early models were very high-powered. Today, e-collars have multiple settings that allow varying intensities and durations. Many models also include vibration or tone settings, providing an alternative to static stimulation.
They are also no longer limited to just hunting. Trainers have since used e-collars for obedience training, behavior modification, K9 training, service training, and many other similar applications.
How Does an E Collar Work?
There are different kinds of e-collars devices:
1. Pet Containment System
Many are unaware that the most common use of e-collars is actually as part of pet containment systems. These systems are used to keep a dog within a specific area like the perimeter of a residence or inside the backyard.
 Photo: Petstek.com
Containment systems like these make use of in-ground or wireless installations, getting rid of the need for an actual physical barrier to keep pets in. A system like this is especially popular with homeowners where local laws do not allow fences to be constructed. They're also beneficial in reinforcing desired behavior in cases where an actual barrier is not enough of a deterrent to stop a dog from bolting out. 
How they work: The containment system wire is shallowly buried along the property boundary. This wire does not in itself carry any current. Rather, it forms a closed loop with a circuit box. This box is what transmits the radio signal to the collar on the dog. When the dog nears the perimeter, the collar is activated and will emit the pre-configured corrective stimulation.
2. Bark Control Collar
Bark control collars, also known as No Bark Collars, are designed to control excessive or nuisance barking.
Photo: Petstek.com
How they work: A bark control collar is activated either by microphone or vibration. Some use both. Once it's activated, the collar will automatically emit static, vibration, tone, or spray to distract the dog from further barking.
3. Remote Training Collar
Remote training collars or remote trainers are collars with a receiver activated with a transmitter or remote. The receiver is a small box with prongs or contact points that lies against the dog's neck to deliver the stimulation.
Photo: Petstek.com
Remote trainers are designed to supplement a dog's training. They're not meant to administer punishment but rather reinforce learned behavior.
How they work: Once a dog starts exhibiting undesired behavior, the trainer or pet owner will push the button on the remote and it will deliver stimulation to the dog's neck to correct the behavior. Stimulation can be in the form of static, shock, tone, or any combination of the three.
Is an E Collar Safe for Dogs?
Are e-collars safe? Electric shock is a physiological reaction. It can cause injury because the current passes through body tissues. Because e-collars were designed to shock, there's always the question of how safe it can be for use. After all, no one wants to get shocked. Why would any decent, dog-loving person wish it on their pet?
Numerous studies have been done on these devices over the years, and here are the facts.
Shock is hardly fitting to describe e-collars.
Steven Lindsay, writing about training and behavior, said shock is hardly the correct description for what e-collars do. This is because the effect produced is more of a "pulsing tingling or tickling sensation" on the skin surface. That is so far from the negative connotation shock usually evokes – spasms, burns, physical pain and more.
The static stimulation produced by e-collars pale in comparison against modern human fitness devices.
There are many modern fitness devices that use electronic stimulation. One good example is the abdominal energizer. It delivers static to muscles at 0.914 joules, causing the muscles to contract. You'd be hard pressed to call it a torture device though, wouldn't you? Now take into consideration that the static produced by this device is over 1700 times stronger than what a dog would receive from an e-collar, even set at the highest level.
Are E Collars Effective for Dog Training?
Veteran dog trainer Pat Nolan posits that e-collar training is an effective way to train dogs. In his book, E-Collar Training for Pet Dogs, Ted Efthymiadis concurs, stating that e-collars "shine as a method of communication and correction that does not erode the trust and relationship" between pet owner and pet.
Can e-collars harm dogs? The answer is never quite as simple as a yes or no. Anything can hurt dogs if not used properly. To effectively train a dog with e-collars therefore, one must remember to:
Use the collar fairly.
Use the collar consistently.
Use the collar in conjunction with a regular training schedule.
E-collars are meant to help dogs, not punish them. Whether for containment, behavior correction, or training, they're a beneficial tool to have in your arsenal and can bolster your confidence as a pet owner while also helping your dog become the best version of themselves.