GPS Collars are the Best Tracking Collars for Your Dog – Here's Why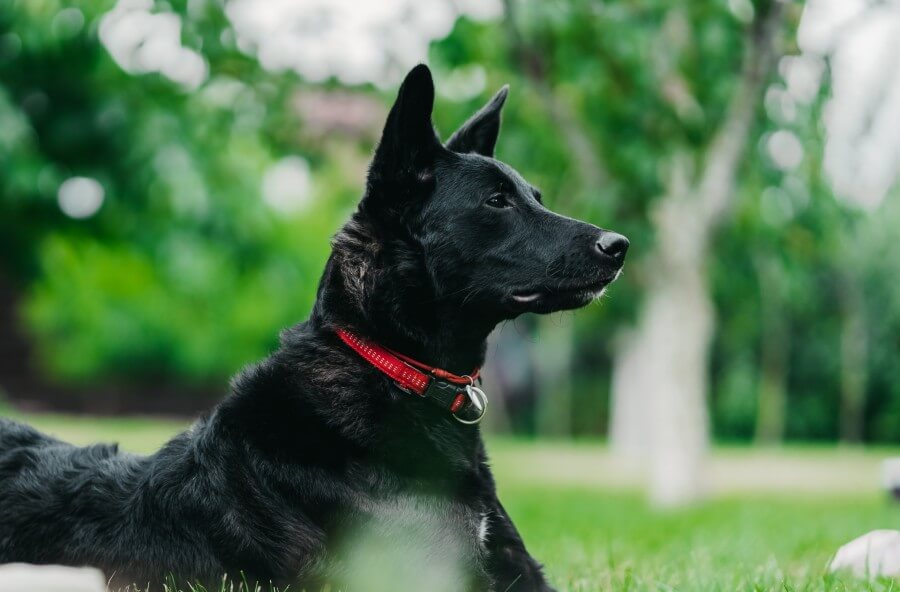 This article was updated on 12 July 2022.
Ever had a pet dog break free and take off while out on a walk? Do you remember how scary it can be, not knowing if you can follow or if they will be able to come back? Sadly, dogs get distracted easily. Dogs that bolt and disappear are just one of the fears preying on anxious pet owners.
As of 2020, The Humane Society of the United States estimates over 63 million households (or half of all US households) own at least one dog. That's about 90 million canines. According to a 2010 survey conducted by ASPCA (American Society for the Prevention of Cruelty to Animals), around 15% of dog owners lose their pet at least once within a 5-year period. That's over 10 million dogs every year. Of that number, only 85% ever make it back home.
Many pet owners have resorted to tagging their pets with a microchip to prepare for this scenario. Microchipping entails using a large needle to put a uniquely numbered chip under the dog's skin. The chip is usually placed between shoulder blades. The chip contains information about the owner and can be read by a scanner when the dog is found.
Some pet owners, however, fear microchipping their dogs because of the risk of complications. Albeit rare, some dogs have been known to develop tumors at the site of the chip. Fortunately for these people, there is another option – a GPS tracking collar. This can help increase a lost dog's chances of being returned to their owner. 
What is a GPS tracking collar, though? How does it work?
What is a GPS Dog Collar?
GPS stands for Global Positioning System. This system consists of satellites, receivers, and ground stations. It works by determining the distance between the receiver and the satellite. With this information, it can tell exactly where one is located.
Tracking collars are remote training collars merged with GPS technology. Simply put, they're an e-collar with a GPS function. The receiver is attached to the collar strap. A radio signal is sent to the remote or transmitter with the dog's exact location.
Because the GPS tracks the dog's location and movement at all times, it allows the dog to go off-leash without the owner worrying where they are. This is why it's rather popular with hunters. Hunting dogs typically cover wide terrains and longer distances. Bigger areas usually render beeper collars and dog bells useless. Having a GPS e-collar to track the canines effectively is an advantage.
Benefits of GPS Dog Tracking Collar
Some GPS tracking collars come with additional features that can let the owner know whether the dog is moving, stopped, or barking. Most are capable of tracking multiple dogs, too. Because it is essentially a locator beacon, it's also beneficial in finding lost dogs. These features make owning one very appealing to many pet owners.
On top of these helpful features, there are also other benefits to using a GPS e-collar.
1. Health Monitoring
Dogs need exercise the same as humans. If you don't spend every hour of every day with them, though, it can be hard to identify if they did anything other than lazing all day on the couch or yard. Here's where GPS collars can help.
Just like modern smartwatches, some GPS remote training collars come with heart monitors. By keeping an eye on their heart rates, you can check if they're getting enough of a workout or not.
2. Connectivity
Remote training collars come with a remote. GPS collars do, too. Monitoring your pet's whereabouts can be done through the LCD screen on the remote. However, many models can connect to smartphones, making real-time tracking and monitoring even more straightforward. Simply download the app, and you're good. 
3. Training
GPS collars are not only suitable for tracking. It can also be an effective training tool because they are also remote trainers. Many models come with static, tone, or vibration functions. 
With the many benefits and features, it's no wonder GPS collars are a popular choice. But is it the only way to track lost and wandering canines?
Is a GPS Dog Collar Better Than Other Tracking Devices?   
Are GPS collars the only way to track lost dogs? The short answer is no. There are multiple options. There's the microchip, as mentioned earlier, for one. ID tags are also widely and commonly used. There are radio telemetry collars that essentially work like GPS, only using radio signals. So what makes a GPS collar better than all the other options?
GPS collars are more pet-friendly.
Unlike microchips, GPS collars do not need to be inside a dog's body to work. The GPS receivers attach to any regular collar strap (although most models come in a complete set of a receiver, strap, and remote). 
There are no chemicals used. There are even hypoallergenic ones to ensure the skin is not irritated. As long as the collar is used correctly, there should be no adverse side effects. It's very pet-friendly.
GPS collars make returning lost pets easier.
Unfortunately for microchips, the only way to locate your pet, is for anyone to find your lost dog and to bring them to a vet or an animal shelter and scan the chip. If no one is kind enough to do this, or God forbid, someone steals your dog, finding them will be nearly impossible.
This is not a problem for GPS collars. Because the receiver can be registered on an app, you can safely find out their location and retrieve them.
GPS collars allow you to respond to pet emergencies faster.
Unlike a microchip, though, GPS collar trackers can show you if your dog has stopped moving in real-time. It can track heart rates too. So if movement ceases or heart rates spike, you can immediately see where they are and respond accordingly.
Now that you know how GPS collars can spell the difference between your pet's life or death let's look at what you need to look out for when you get one.
The Best GPS Collar for Your Dog
Photo: Dogtra Pathfinder2 Remote Training Collar  
What should you consider before buying a GPS collar?
1. Cost
GPS collar prices range from as little as $100 to over a thousand. But always remember that you get what you pay for. Cheaper collars may be made with flimsy materials that break down quickly, costing you more in the long run.
2. Battery Life
Every time a collar sends a signal to your mobile phone, it uses up the battery. Make sure that you choose a collar with high-quality batteries that last at least 24 hours.
3. Range and Accuracy 
The most significant advantage of GPS tracking collars is they work even when the dog is many miles away. So choose one that covers wider ground, especially if your dog is prone to running off.
4. Dog and Collar Weight
GPS receivers can be heavy. Therefore, if your dog is on the smaller side, look for an e-collar that's lightweight. This will also limit discomfort when getting your dog used to the device.
The
Dogtra Pathfinder Mini
GPS + E-Collar combo, for example, only weighs 7oz. It's excellent for smaller breeds. Meanwhile, the regularly-sized Pathfinder is better for dogs weighing 35 pounds or more.
5. Extra Features
Because GPS trackers are more useful in outside situations, it's essential to pick a collar that is both water- and high-impact resistant. Other notable extras that would be great to have are alarm buttons, energy-saving sensors, app connectivity, offline map mode, and expandability.
Pets are much-loved family members. But they can also be very curious and wander away, especially when off-leash. Getting a GPS tracking collar for your canine helps diminish the anxiety you feel every time you take your eyes off them. It also increases their chance of returning to you if they get lost. At the end of the day, the cost of getting one is worth the peace of mind it will give you and the freedom it will grant your furry friend.