5 Reasons Why Your Dog is Not Responding to Treats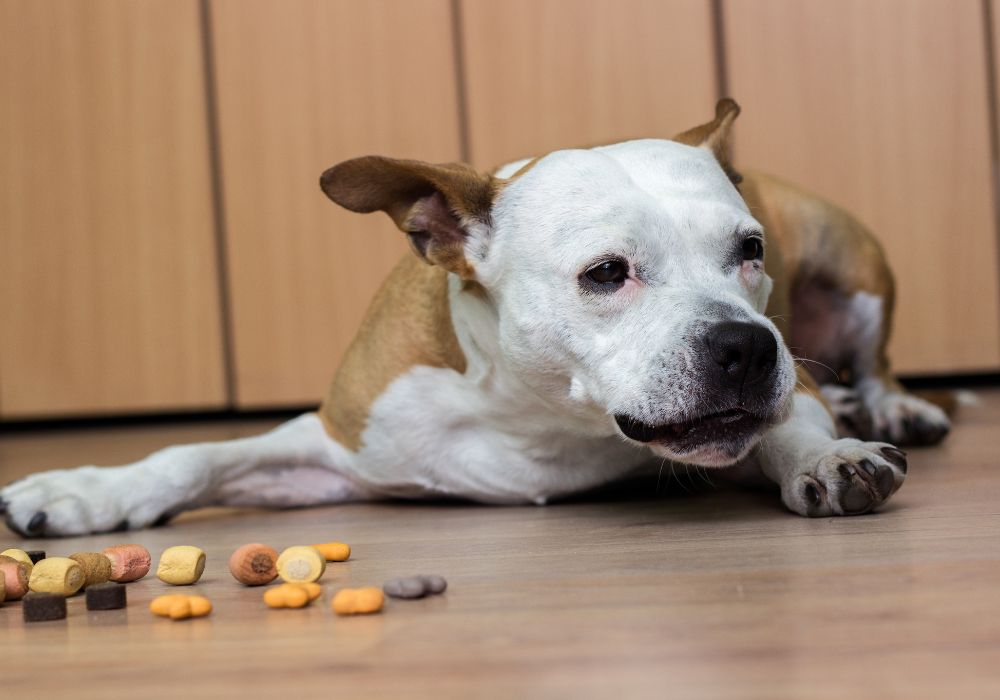 "He's not food driven" or "She doesn't like treats" are statements often declared with a hint of frustration. And why not? Food is a great reinforcer. This is unironically true for both humans and canines. However, some dogs prefer high-intensity activities, toys, or social praise to food. 
A non-food-driven dog can make dog training difficult. Imagine a pet owner or trainer attempting to reward a dog for excellent behavior, only for them to refuse the treat.
However, if a dog is utterly uninterested in food, they would not consume any. At all. So, there may be deeper reasons why they refuse to work for that treat.
Luckily, if dogs aren't motivated by food, there are a variety of other training techniques available. But knowing why your dog isn't interested in treats is essential before considering other options.
Why is Food Included in Positive Reinforcement Training?
Positive Reinforcement alters behavior by attaching positive consequences to desired behaviors, such as food or the opportunity to partake in enjoyable activities. This is why dog trainers often use plenty of treats during dog training.
However, food treats may not always work.
5 Reasons Why Your Dog Lacks Food Motivation
Type of Treat
It's possible that your dog simply doesn't like the particular treat you're offering. They might not find the treat exciting enough to be rewarding.   Every dog, like every human, has different preferences for their favorite snacks. It is critical to learn which goodies your dog enjoys to keep them engaged during training.
 Tips When Choosing the Best Dog Treats for Your Pet
Choose treats that are small, simple to swallow, and need little chewing for training purposes. With large chunks, your dog must pause during training to stop, chew, and take time to consume it. As a result, they may become distracted and lose focus.
Perfect rewards are around pea-sized, soft, and relatively soft. It's also important to remember that dogs are more impressed by the quantity of treats they receive than the size.
Delicious to Your Dog's Palate
Your dog won't feel rewarded and won't be motivated if they don't like the treat. But not every dog enjoys all food. Some like pieces of meat or sausage, while others could prefer a piece of fruit, vegetable, or even peanut butter.
To find treats that work, experiment with several different kinds until you identify what your dog wants. Don't be reluctant to try out new things.
Variety of High and Low-Value Treats
If your dog is losing interest, vary the incentive. Add something extra or give a higher value treat. This also works if your dog is performing exceptionally well.
Homemade or Purchased Treats
Purchased treats require no preparation, cooking, or cleaning on your part, making them quite convenient.
On the other hand, homemade treats need more time to prepare but are more cost-effective. They may also be healthier as they only include ingredients you can select. Aim for items like tiny pieces of ham, chicken, sausage, or baked biscuits.
Which is best? The best is whatever suits you, your dog, and their taste buds.
Stress 
Your dog may be too overwhelmed to accept treats in an uncomfortable environment. It's critical to be aware of your dog's body language so you can spot any signs of stress. 
The surroundings, including a busy street, crowds of people, young children, noise, and other dogs, may stress your dog out. It's crucial to consult a professional about the best course of action to move forward and forge positive associations to lessen their worry. They might need to train in a calmer environment.
When stressed, dogs display a variety of symptoms, including:
Nose or lip licking
Yawning
Panting
Shaking off
Whale eye
Post-feeding Time 
If you train your dog just after a meal, they might not be motivated to work because they are already full. Work out before mealtimes or include some of their feed into your routines.
Overweight 
If your dog is overweight, they might not be happy to work for more treats. Your dog may need to go on a diet, or you may want to use some of their meals during training sessions.
Turkey, watermelon, apple slices, and green beans are a few low-calorie but delectable treat options. These will aid your pet's diet choices while rewarding them throughout training sessions.
Competing Reinforcers
Occasionally, what you provide to your dog will be viewed as less valuable than rival reinforcers. For instance, if your dog avoids food while pulling you toward someone to say hello, that person is valued more highly than the food. Try teaching your dog to observe the person from a distance and reward them by allowing them to approach them.
Phasing Out Treats
You cannot reward your dog for every positive behavior. You don't want a dog that only obeys your commands when you offer them a treat.
Whatever techniques you use to train your dog, it's crucial to stop using them eventually. In the end, you want a dog that will obey vocal commands in all situations, including where it's off-leash, far away, and distracted.
You may also consider other dog training options, such as an e-collar. You can substitute life rewards with dog treats while food rewards are being phased out, like praising and petting.
The following are some of the best e-collars for dogs that can help you with balanced dog training:
The Dogtra 200C is a very dependable e-collar. This Dogtra shock collar has a 1/2-mile range, making it the perfect choice for basic yard and obedience training while also being portable for extended adventures. The 200C is ideal for small to medium-sized dogs.
The Mini Educator ET-300 by E-Collar Technologies is a handy training aid for dogs as small as 8 pounds. Don't get fooled by the "mini" in its name. This remote dog trainer is a highly effective device in the hands of a capable trainer. With static stimulation, vibration, and tone, you can vary your training methods and choose what your dog responds to most.
The ET-300 comes in a yellow, black, and Educator Zen 300 design variant.
For a good reason, Educator collars are some of the most popular in the market. Educator dog collars are easy to use and effective. The Boss Educator ET-800 is one such collar.
The ET-800 is recommended for dogs weighing 20 pounds or more. The collar strap is waterproof Biothane, making it stylish, easy to clean, and comfortable. Additionally, the stopwatch-style remote transmitter allows for one-handed operation.
The 200NCPT dog training e-collar is one of the few Dogtra e-collar models that offer vibration, static stimulation, and tone. It's a fantastic tool for basic behavior training or fieldwork training.
One of the most reliable and long-lasting remote training collars you can find! The Dogtra 1900S shock collar has a receiver with low-high stimulation output. It has 127 levels, so choosing the right stimulation level to match your dog's needs is easy. Suitable for medium-sized to large dog breeds.
Dog training treats are a vital tool in a dog trainer's bag. They're a simple, nearly infallible approach to encouraging dogs to cooperate. But not all dogs respond to treats. Your responsibility as a pet owner is to find what works best for your dog and adjust accordingly.