DogWatch Collar Buying Guide 2023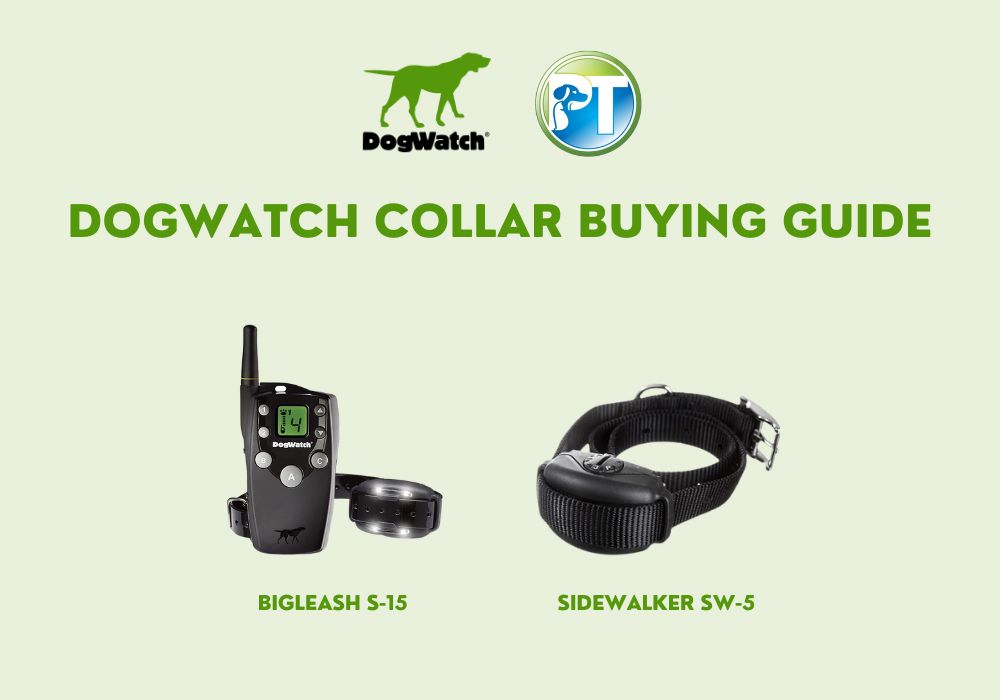 E-collars have come a long way since they were introduced in the 1960s. Since then, several units have emerged in the market. Manufacturers each offer unique e collar attributes, which separate their brand from the others. With many options available, choosing a dog shock collar can be tricky for pet owners and trainers.
We've previously discussed some reputable brands, such as E-Collar Technologies, Dogtra, SportDog, and PetSafe. Now, we'll focus on one equally respected brand in the dog training industry - DogWatch.
Who is DogWatch?
DogWatch was one of the two original manufacturers of electronic fences back in 1990. DogWatch uses a patented digital FM technology for their collars. This is what sets them apart from other manufacturers. Aside from hidden dog fences, they also develop dog training collars and cat fences.
In this blog, let's talk about DogWatch training collars.
Features of DogWatch Training Collars
DogWatch training collars help reinforce already learned commands and correct undesirable behaviors in dogs. These collars typically come with the following features:
1. Digital FM Technology
Source: dogwatch.com
DogWatch takes pride in its patented digital FM technology. FM frequencies are less susceptible to interference than AM signals used in other dog shock collars. The DogWatch collar is less likely to be activated by other frequencies, so your dog won't get stimulated for something they didn't do. It's more accurate and, most importantly, safer to use.
2. Multiple Stimulation Options
DogWatch trainers have vibration and tone settings on top of static stimulation. This allows you to choose the correction mode that suits your dog. For instance, if you have a sensitive dog, it's best to use vibration or tone in training. Otherwise, static correction may be the way to go if you have the stubborn kind.
3. Compact Design
Made with your pets in mind, DogWatch collars are lightweight and compact. They can fit dogs as small as 6 pounds. In addition, their training collars weigh only 1.9-2.0 oz.
4. Weatherproof and Waterproof
Since dog training is a constant endeavor, shock collars should be durable enough to withstand elements. So whether it's summer, winter, or raining, there's no stopping you from teaching your dog a few tricks using a DogWatch collar.
5. Long-Lasting, Rechargeable Battery
DogWatch designed their collars to last for years, outfitted with rechargeable batteries that stay charged for days. This saves you from additional costs and the hassle of constant recharging.
What DogWatch E Collar Should You Get?
If you've checked out the DogWatch e-collar collection, there's really not much to choose from. In fact, they only have two training collars in their catalog. The rest are pet containment systems and one bark collar device.
Nonetheless, in buying any e collar model, there are a few things to take into account:
What is the e collar for?
This is perhaps the most crucial consideration you need to decide on. Why do you need a shock collar for dogs? This will help you determine what type of collar to buy and the particular feature you'll have to focus on.
Training collars are nifty tools to reinforce basic commands and correct unwanted behavior in dogs. Some collars are designed for remote training and off-leash activities. There are also some specifically made to prevent leash pulling or reactivity.
Dogs come in different sizes. That's why training collars do, too. There are e-collars for small dogs as well as for large dogs. Getting the correct equipment is essential for the e collar to work as expected.
Is your dog sensitive or stubborn?
Dog training collars with low stimulation are ideal for sensitive dogs. Meanwhile, stubborn canines may need higher levels of stimulation during training.
An e collar is used to elicit a reaction from your dog. If your pet is not feeling the correction or the stimulation is just too high, maybe you're doing it wrong or bought a tool unfit for them.
These are just some of the questions to ponder. You can read more about this here.
Choosing the Right DogWatch E Collar
There are currently two training collars being sold by PetsTEK:
S-15 BigLeash
SideWalker® SW-5
DogWatch S-15 BigLeash Remote Training Collar
The DogWatch S-15 BigLeash remote trainer may be one of the safest dog training tools. It is the only e-collar with digital FM technology and an exclusive In-Touch™ two-way communication system. Its patented FM technology ensures that interference from other frequencies is less likely. This means your dog's collar will only be activated by you using the remote transmitter.
The BigLeash remote trainer has a ½-mile range, multiple signal options, and 15 adjustable settings. Moreover, it lets you know if your dog is moving out of range. The S-15 BigLeash also comes with built-in LED lights to locate your dog at night.
DogWatch SideWalker® SW-5 Leash Trainer
If your dog loves to pull on the leash during walks, the DogWatch SideWalker® SW-5 Leash Trainer is a great choice. This leash trainer has a "self-teaching" design, so your dog walks beside you without pulling or dragging.
The sensor activates your designated stimulation when your dog pulls on the leash. The level gradually increases as the pulling continues and resets once your dog stops pulling. To avoid accidental correction, the SideWalker does not activate at low pull pressures.
Quick Summary
DogWatch may not have a lot of offerings, but maybe you don't need to look for more. If you want your dog to achieve off-leash freedom, choose the DogWatch S-15 BigLeash remote training collar. Meanwhile, if you want them to learn appropriate on-leash behavior, the SideWalker® SW-5 Leash Trainer is your best pick.
Final Word
Dog training entails consistency and effort. Even if you bought the correct trainer, it doesn't necessarily mean you'll have success. However, getting the right training tool is a big step forward. With patience and the right training regimen, it's only a matter of time before having a well-behaved companion.