Tracking Down the Best GPS Collars by Dogtra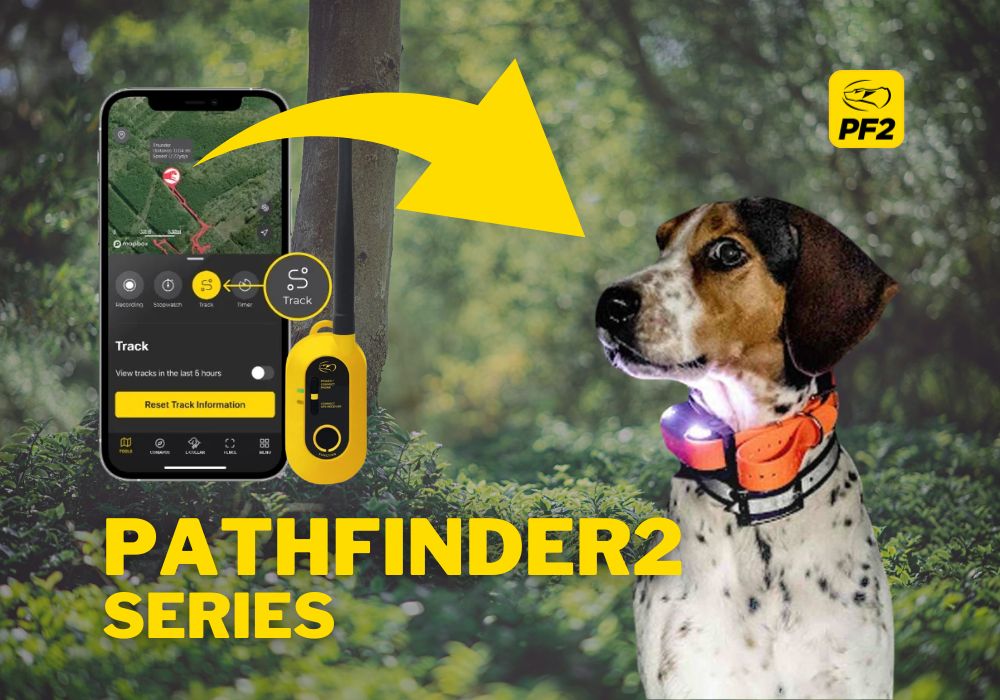 This article was updated on March 21, 2023.
A study in the US revealed that 14% out of 10,948,000 dogs go missing at least once in their lifetime. Of that number, 7% were never reunited with their owners. That translates to 766,360 lost dogs, which is quite a number.
GPS tracking collars are reliable tools for outdoor adventures with your canines. Say goodbye to the days of anxiously finding your lost pets and asking the neighborhood or shelters with a slim chance of ever locating your pet.
What is a GPS collar?
A Global Positioning System (GPS) is a network of satellites that determines the location coordinates of virtually any point on Earth. GPS works with receivers and GPS control and monitoring stations. GPS receivers provide accurate location and time. Hence, they make the best tool when it comes to tracking.
A GPS collar is a shock collar that operates with GPS technology. With a GPS collar, you can keep tabs on your dog's location, activity, and more.
Some GPS collars come with e-collar functions that allow you to track and train using one GPS tracking system.
In this blog, let's discuss the best GPS dog collars to-date developed by the industry-leading e-collar brand - Dogtra.
Who is Dogtra?
Dogtra is a popular name in the e-collar business. They're among the industry leaders in producing top-of-the-line e-collar products, such as no bark collars, remote training collars, e-fences, and GPS collars.
For over 30 years, they have been trusted by professional dog trainers, hunters, and pet owners for their reliable, durable, and intuitive dog training tools. Dogtra is the Official GPS Collar Partner of the United Kennel Club.
The Pathfinder2 Series: GPS Tracking and Training Made Easy
The Dogtra Pathfinder family of GPS tracking collars includes the Pathfinder and Pathfinder2 series. The Pathfinder series comprised the first Dogtra GPS collars marketed and included the Pathfinder, Pathfinder TRX, and Pathfinder Mini models.
With the Pathfinder2 series released, Dogtra has phased out the original Pathfinder series. However, the Pathfinder Mini is still up for grabs until stocks run out. The new Pathfinder2 series offers new hardware and technology with excellent tracking features and high accuracy. 
With hunting dogs and K-9 in mind, Dogtra GPS collars allow you to track up to 21 dogs with a range of up to 9 miles. Whether you have training exercises, hunting schedules, and competitive events, a Dogtra tracking collar is your go-to partner for dog location tracing and training.
The Dogtra GPS collars currently available in the market are:
Pathfinder 2 - the latest update with GPS and e-collar functionalities

Pathfinder 2 Mini - the compact version of the Pathfinder 2
The Pathfinder 2 TRX (tracking-only system) has yet to be available as of this writing.
Pathfinder 2 - Complete GPS Tracking and Training System
Dogtra GPS collars never lag behind technological developments; they tag along. The Dogtra Pathfinder 2 is the upgraded version of the original Pathfinder model. It has complete tracking and training functions featuring a FREE real-time tracking and training app.
With the integrated smartwatch app, you can quickly access your dog's location and status with only a glance at your smartwatch. This Dogtra e-collar introduces the new tactile E-Collar Function button on your GPS Connector (transmitter), which provides access to your last-used correction setting.
Unlike other GPS collars that require monthly fees, the new Pathfinder 2 works with a FREE app-based tracking system with no monthly subscriptions. Up your game without limits for only a one-time purchase. Using your smartphone, navigate with no signal required with the up-to-date offline maps powered by MapBox technology.
Go further with your adventures using this dog tracking collar, expandable for up to 21 dogs with a 9-mile range. The new Pathfinder 2 features alternative stimulation types, such as the non-stimulating Pager vibration and audible tone. For better visibility while in the field, a LED Locator Light is also added.
This hunting dog collar is a step ahead of other GPS e-collars. And it couldn't get any better with the new addition of enhanced GPS fence modes, allowing you to customize an e-fence boundary for your dog. Once your dog crosses the boundary, the system automatically sends a one-time correction as a warning.
Are you going for a hunt anytime soon? You can never go wrong with the new Pathfinder2 - made easy for you, now loaded with new app features and a system's hardware upgrade. If you're looking for a tracking-only system, the Pathfinder2 TRX should work best for you.
Dogtra Pathfinder2 Features Summary
12"+ Neck Size

9-Mile Range

Rheostat/Volume Dial with Stimulation Levels 0-100

Nick and Constant Stimulation

Non-Stimulating Pager Vibration

Audible Tone

2-Second Update Rate

Geo-fence Option

Offline Maps

Precise and Up-to-date Maps

Tracking-Only Mode

Fully Waterproof Receiver

Expandable to 21 Dogs and Hunters

For Dogs as Small as 35 lbs
Pathfinder 2 Mini - Enhanced GPS Tracking System Now in a Compact Package
The Dogtra Pathfinder 2 Mini delivers GPS and e-collar technology to your smartphone, with industry-leading accuracy and training capability designed for smaller dogs. Similar to the Pathfinder 2, this GPS collar provides tracking functionality and, at the same time, allows you to issue corrections on your small dogs like beagles.
Track without worry as this e-collar works in areas with no cellular service and operates using the "Offline Maps" option. Unlike other GPS tracking collars, there is no need to purchase extra navigation packages or monthly subscriptions. You only need to download the FREE maps on your smartphone and access terrain and satellite map views via the Dogtra Pathfinder 2 app. The Pathfinder 2 application, however, is only compatible with the Pathfinder 2 systems.
Using your smartwatch, trace your dog's location and activity and prepare for action. If you need to send feedback, the GPS Connector allows you to operate the latest-used correction with just a press of the e-collar function button.
Developed specifically for smaller dogs, the Pathfinder 2 Mini provides a 4-mile range and a Beacon & LED Locate Light for easy tracking of dogs. Dog training feature offers nick, constant, and audible tone for serious training and competitive situations.
The Pathfinder 2 Mini combines tracking and training all in one. Keep tabs on your dog's whereabouts, and pair up to 21 small dogs for a level-up and exciting experience.
Dogtra Pathfinder2 Mini Feature Highlights
4 Mile Range

Rheostat/Volume Dial with Stimulation Levels 0-100

Nick and Constant Stimulation

Audible Tone

Fully Waterproof Receiver

Geo-fence Option

Offline Maps

Precise and Up-to-Date Maps

Tracking-Only Mode

Expandable to 21 Dogs and Hunters

For Dogs as Small as 15 lbs
New Model Alert
Dogtra has yet to release the Pathfinder2 TRX of the new Pathfinder2 series.
What to expect from the Pathfinder2 TRX? 
Regarding compatibility, you can expect this model to work with the new Pathfinder2 app. This indicates that this Dogtra ecollar will also feature exceptional real-time tracking function, smartwatch access, 2-second update rate, updated Geo-fence options including e-fence, and many more.
As a GPS-only alternative, the Pathfinder2 TRX will take the highlight. It will be a tracking-only system without an e-collar functionality. This will cater to users who only want to track their dogs.
Frequently Asked Questions
What is the difference between the original Pathfinder and new Pathfinder2?
Hardware-wise, the Pathfinder2 has a yellow GPS connector and module that provide better visibility than the Pathfinder, which are all black. The new version has an upgraded remote transmitter with the addition of the tactile e-collar button function. In the old system, correction is only limited through the smartphone app, whereas the new model provides more options, allowing you to use either the phone app or remote for correction.
Application-wise, the new upgrade separates itself from the old model with a new user interface and features that come with the app. Pathfinder 2 also offers a non-stimulating Pager vibration, which the original Pathfinder lacks.
Will an e collar hurt my dog?
A remote trainer works by sending a signal from the transmitter to the collar on the dog's neck. The signal then triggers the stimulation, which can be in the form of static shock. The stimulation is meant to distract the dog from doing something they're not supposed to or mark the desired behavior.

The stimulation may be unpleasant but generally harmless

.
For people who prefer not to use static stimulation, the Dogtra Pathfinder2 comes with a Pager vibration system.
Are e-collars effective?
E-collars can be invaluable training tools, but only when used correctly. If you are unsure about using one or do not know how to start, please consult with a professional trainer.
When can I use an e collar for dogs?

PetsTEK does not recommend using an e collar for dogs younger than 6 months old. Supplement training with a remote trainer only when your dog has already learned the basic commands.
Are Dogtra collars worth it?
Yes. Dogtra shock collars are safe and effective training devices trusted by professional dog trainers and pet owners alike.