5 Steps to Teach Your Dog the "Down" Command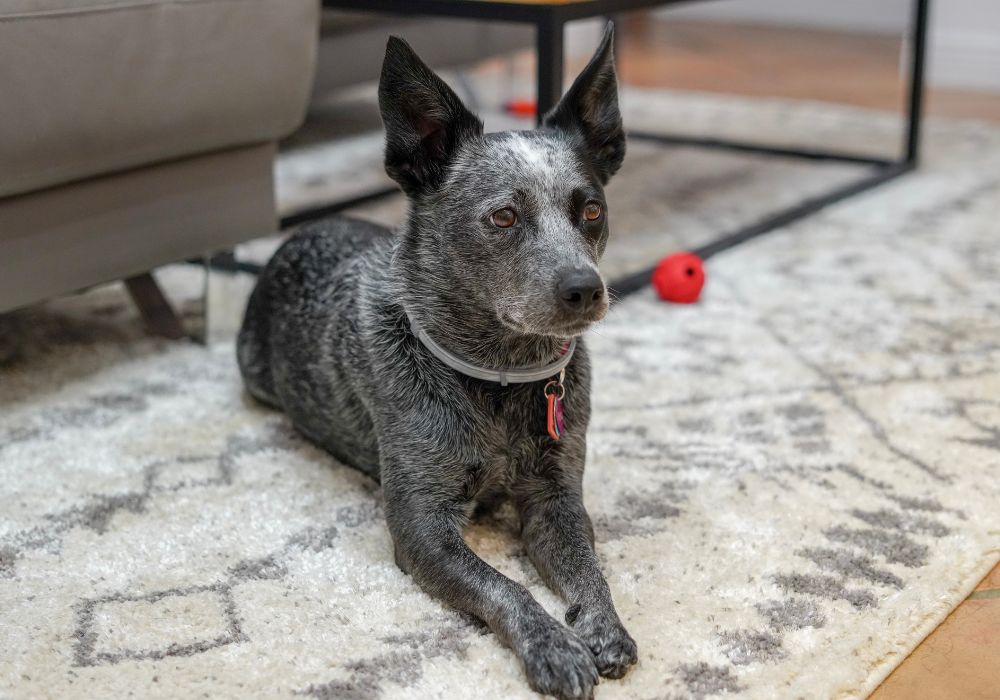 Your dog must learn the basic command "down" or "lay down." It typically follows the command "sit" in difficulty, which is the simplest of all. All dogs should ideally be able to lay down on command when their owners ask. When you want to get your dog to calm down in a stressful situation or maintain them in a certain position like "sit" for a long time, the command "down" can be handy. In other dog tricks, such as the well-known rollover, it also serves as the first step. Teaching "down" to your dog is just as easy as teaching them to sit.
Your dog should be lying on their back with their chest, elbows, and hocks on the ground. They should ideally remain there until you let go of them. Your dog can learn to flawlessly execute the down command with practice, and it is a simple command to teach.
The Biggest Mistake When Teaching the "Down" Command
Never force your dog to lie down. Despite the temptation, moving your puppy into the desired position will probably have the opposite result. The more pressure there is, the more your dog will want to stand. It's also possible to scare them, making the job less desirable than if they were rewarded for performing it independently.
What You'll Need to Teach the "Down" Command Properly
Dog Treats
Clicker or E-Collar (Optional)
Patience
How to Teach a Dog to Lay Down in 5 Easy Steps
With a treat, lead your dog down.
Hold the treat in front of your dog's nose to grab their attention. After that, carefully lower the treat to the ground. To help the dog maintain focus, place the treat directly near their nose. If you notice their nose is more than two or three inches from it, slow down. Allow your dog to "catch up" to the movement of the treat.
Reward your dog once their belly touches the ground.
Say "good dog," then drop the treat so the dog may eat it right out of your palm as soon as your dog's belly reaches the ground.
It can be thrilling when your dog successfully lays down for the first time! At this point, however, try to avoid going overboard. Practice this step three times while holding a reward in your hand. Doing this can stop your dog from becoming hooked on the sight of the treat in your hand. 
Once your dog has successfully followed the treat into the "lay down" position three times, it's time to move on to the next stage.
Experiment without any treats.
Next, repeat the process by placing your hand in front of the dog's nose and lowering it slowly to the ground while holding nothing in your palm.
Say "good dog" and give your dog two treats one at a time if your dog follows your hand into the down posture. Giving your dog two treats for going into the position after an empty hand teaches them that it's okay to lay down even though they don't see food in your palm beforehand.
Suppose your dog doesn't entirely lie on the floor. In that case, you can start by giving praise and treats for intermediate actions, such as the elbows reaching the ground, and increase your intentions for a more totally "down" position.
Give a smaller treat and repeat the first and second steps if your dog doesn't follow your hand. Then, re-start once more with an empty hand.
Put a name to the command.
When your dog consistently follows your empty hand to lay on the floor without ever requiring a treat in your hand, you are ready to name the behavior. After pausing for a few moments, say "lay down" and raise your hand. As soon as your dog settles, give them praise and treats. Take a few repetitions of this, then a break.
Practice expressing vocal commands.
Try saying "lay down" at an undetermined time after practicing step four a few times to see what happens. Give your dog praise and treats if they lie down!
If your dog still doesn't lay down, practice using the word and hand gesture as indicated in step 4 for a couple extra sessions. Then, try asking for a "lying down" at random once more during a break from training. Your dog might need a few days, or maybe even a week or two, to associate the word "lay down" with the action of lying down.
My Dog Won't Lay Down! What Do I Do?
There could be numerous reasons for your dog to refuse to lie down: 
Your dog may need more practice following the command, or they could not be aware that it is applicable everywhere. If you only trained in your home, for example, they might not be aware that "down" means the same action outside.
They feel uneasy lying in the area you want them to.
They suffer joint pain, making lying down painful.
Lying down could make your dog feel very anxious or unsafe while you're in a noisy or congested environment.
Rather than getting annoyed, strive to figure out what's on.
Can I Use an E-collar to Train My Dog?
Yes! But you should ensure that your dog already knows the basic obedience commands before you begin e-collar conditioning so that they do not become collar-wise. It is also essential to take into consideration the age of your dog. The advised age of your dog to wear an e-collar is not less than 6 months. If you are unsure how to teach your dog, consider hiring a professional dog trainer.
How to Train your Dog to Lay Down Using an E-collar
Step #1: Let your Dog Wear the E-Collar
Ensure your dog is wearing the e collar properly before training them to respond effectively. Ensure the collar's prongs are in contact with your dog's skin. The collar shouldn't be too tight because this may make them uncomfortable. The e-collar should be comfortable to wear for an extended period when correctly adjusted.
Step #2: Find the Right Stimulation Level
After ensuring the dog is wearing the collar correctly, hit the remote control to give stimulation at the lowest level. If your dog doesn't react, increase the stimulation by another level until you obtain the desired response: that your dog "feels" the shock. You should lower the e-collar's stimulation level whenever your dog whines, yelps, or makes any sudden head or body movement.
Step #3: Prepare for Positive Reinforcement
Your dog could occasionally face issues when wearing an e-collar. Giving your dog high-value treats will undoubtedly make they happy and is also positive reinforcement. In the long run, your best friend might no longer require the shock collar to conform or follow, but they would still appreciate a tasty treat.
Step #4: Introduce the "Down" Command
Move your hand to the floor, say "down," and immediately press the stimulation button. As soon as your dog lies down, praise them with words such as "Yes!" or "Good Dog!" and don't forget to give them a treat afterward.
Step #5: Repeat
To help them get the knack for it, repeat the instructions a few times. Increasing the length of the training session won't help if your dog is having trouble understanding what you want. Take a break after five to ten minutes, then resume your attempt later.
Challenge your Dog
When your dog can consistently lie down, working a maximum of five times in a row within one minute or two, they can receive the treats. You can do another action to have them lie down for a longer time. You may test this out in a certain section of your house.
Have you and your lovable pooch mastered some basic commands? Take your dog training session to the next level with a remote e-collar! Here's a list of our favorite collars for basic dog training.
1. Mini Educator ET-300 Remote Training Collar
The ET-300 is one of the most popular and most recognizable of Educator collars. This small but powerful remote trainer has a range of 1/2 mile, making it adaptable to house training and field training environments. It has 100 levels of static stimulation, vibration, and tone options so finding the right combo for your dog is easy. Recommended for dogs as small as 8 pounds, you'd find that it works adequately even for larger and heavier breeds. The Mini Educator comes in three color variants - yellow, black, and the Educator Zen 300. It also has a vibration-only variant that's perfect for deaf and hard-of-hearing dogs - the PG-300.
2. Boss Educator ET-800 Remote Training Collar
The Boss ET-800 remote training collar is perfect if you want to enhance your dog's training with more difficult commands or train your dog to be completely off-leash. The remote is the same stopwatch design as the Mini Educator so it's easy to hold and operate with one hand. This powerful e collar has a range of 1 mile, 100 levels of static stimulation, and an additional 60 levels of boost. Recommended for dogs 20 pounds and larger.
3. Dogtra ARC Remote Training Collar
Dogtra shock collars are some of the best, most dependable, and most durable remote training e-collars in the market, making them a great dog training investment.
The ARC model is designed for all dog breeds with moderate temperaments. Its ergonomically designed low-profile receiver collar fits your dog's neck perfectly. The transmitter's checkered grips let you maintain a secure grip. It can control up to two dogs, letting you take care of your closest companions with just one hand. It also comes in a Handsfree variant - the ARC Handsfree Plus.
4. Dogtra CUE Remote Training Collar
The Dogtra CUE remote trainer is the latest addition to the Dogtra e-collar lineup. Currently only available through Amazon, this 400-yard collar has a 400-yard range, 24 levels of static stimulation, vibration, and a carabiner-design remote transmitter. The receiver is convertible for a vertical or horizontal fit, making it flexible for any dog size.
5. SportDog 425X FieldTrainer Remote Training Collar
The Sport dog 425X is designed for versatility in training, ease of use, and no-look operating. This SportDog e-collar has 21 levels of static stimulation, tone, and vibration. With the purchase of extra collars, it supports training up to 3 dogs with the same remote. Suitable for dogs that weigh at least 8 pounds.
A fantastic way to bond with your dog and spend time together is to teach them to commands. Since dogs lying down are typically staying out of trouble, having a dog lying down on command can be helpful in various scenarios. Don't wait. Begin teaching your dog to lie down right away! The sooner you get started, the earlier you can employ the "lie down" command.