5 Unbelievably Easy Steps to Teach Your Dog the Come Command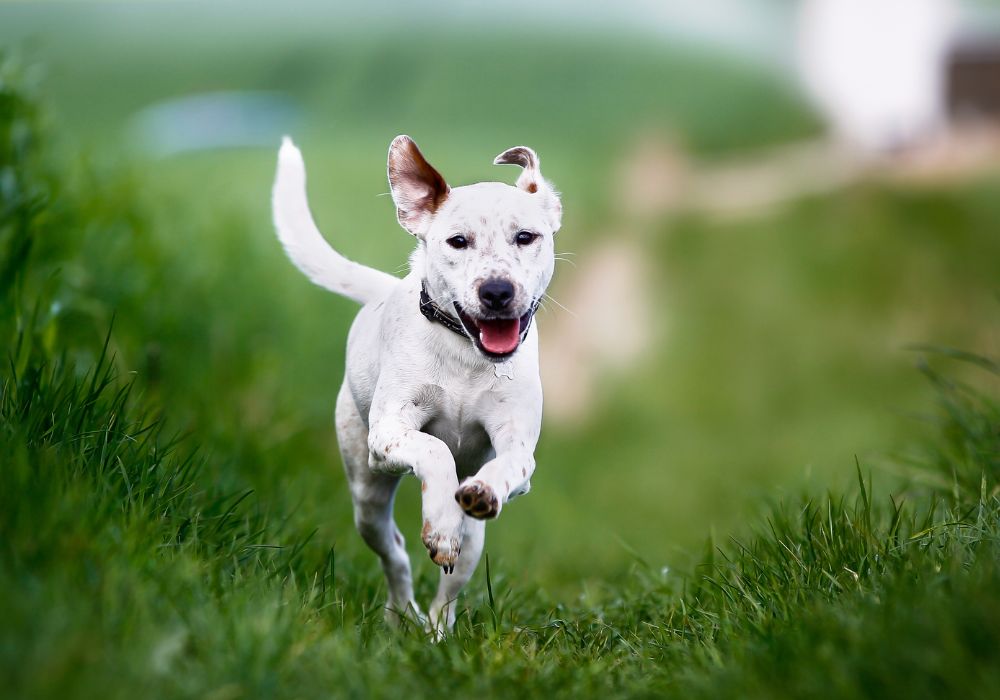 Dogs are easily distracted. Their curiosity will sometimes draw them toward life-threatening situations, like oncoming traffic. You want your dog to respond to your voice above all else when they are charging obliviously toward danger. This is why learning the "come" command is crucial. It can literally save your precious dog's life.
Although "come" is a simple order, many things could divert your dog, making teaching challenging. The work is worth it, though. A good recall can save your dog from ingesting poison, running into traffic, or being attacked by a raccoon or other dangerous animals. It's essential for any successful off-leash experience, including going to the dog park.
The Biggest Mistake When Teaching the "Come" Command
Never issue a recall command in a furious or frustrated manner. Your dog needs to associate the "come" command positively with you.
Starting out, your dog may refuse to approach you. You must ensure they understand what you want them to do. Try giving a gentle tug on the leash to convey the message.
What You'll Need to Teach the "Stay" Command Properly
A Quiet Space – Backyards are ideal, but any distraction-free area will also work.
High-Value Treats (like chicken)
Time (10-30 minutes daily)
Patience
A Reliable E-Collar
How to Teach a Dog Recall in 5 Easy Steps
Step 1: Start in a secure environment.
Find a place with few distractions where you can start training. You may do this in your backyard or another area of your house. Allow your dog to roam and explore the area before training so they can get familiar with their boundaries.
Step 2: Say your dog's name and make them come to you.
After a few minutes of exploration, say your dog's name and then ask them to approach by saying "come" aloud.
In these early phases of training, encouragement is crucial. You can even reward your dog when it looks in your direction after you command them to "come."
Step 3: Reward with a treat.
Once your dog approaches you, reward them with delectable training treats and give them lots of affectionate scratches, pats, and rubs. It helps them feel accomplished. You may even give them their preferred toy as a surprise!
Step 4: Repeat.
To help reinforce and follow the command consistently, aim for 15 to 20-minute training sessions. Repeat them twice daily.
You can anticipate your dog to reliably come when called after one to two months of continuous training sessions. Certain dogs may need more time or less to develop a reliable recall.
Step 5: Practice.
Once your dog has a solid recall cue, you may employ it in casual settings like going for walks or lounging around the house. Even dog park training sessions are possible.
Ask your dog to come wherever you are, at random, and if they approach, give them a "jackpot reward," which is three to five yummy goodies, one at a time, with praise for each reward. Your dog will think they've won the lottery as a result and begin to equate the come command with affection and treats.
My Dog Won't Come to Me! What Do I Do?
Dogs, like young children, are prone to get sidetracked when learning new things. Therefore, for lessons to stick, they need to be taught in various settings with different levels of distraction.
If your dog doesn't respond when you call, they could not have applied the command universally. Your dog might believe that when you call "come" while seated on the couch, you only mean for your dog to come over to you in the living room. Start in the least distracting area possible while teaching your dog a new command or cue. Then, gradually move on to more exciting locations, like the park.
Start in one room of your home, for instance. Once they can reliably follow the commands, try again in another room. Then move to the backyard. The front yard follows. Then, the neighborhood park. See where we're going with this?
Before you switch environments, your dog should respond to the call at least eight or nine times out of ten in each one.
Can I Use an E-Collar to Train My Dog?
Yes! If your dog is more than six months old. We don't recommend teaching your dog basic commands like sit, stay, down, and come while wearing an e-collar. But suppose your dog already has some training and understands the commands but gives you inconsistent, delayed, or inaccurate responses. In that case, an e collar can tremendously aid their improvement.
How to Train Your Dog to Stay Using an E-Collar
Step #1: Get Your Dog Comfortable with the E Collar
Before using stimulation on your dog, get them comfortable wearing the e-collar first. You can do this by letting them wear the collar a few minutes at a time every day. Once your dog is used to wearing the e collar, you can start training.
Remember that the e-collar must fit your dog correctly. The remote training e collar must fit snugly to enable contact points to make skin contact. Check carefully that it's not on too loosely or too tightly. A good fit allows you to insert two fingers between the collar strap and the dog's skin. The side of the neck is where the receiver should be placed. This makes the ecollar will stay in place. This also ensures adequate and consistent stimulation is administered when the time comes.
Step #2: Find the Right Stimulation Level
Once your dog is comfortable with the collar and the receiver, you need to identify the appropriate stimulation level that generates a quick response.
Push the remote control to instantly deliver stimulation at the lowest level after ensuring the dog is wearing the collar properly. If they don't respond, increase the amount until you get the desired response that your dog "feels" the shock. If your dog whimpers, yells, or moves their head or body in any manner, you should turn the level down.
Step #3: Prepare for Positive Reinforcement
Your dog may become frustrated when wearing an e-collar at times. Preparing goodies for your dog, especially high-value ones, will make good rewarding behavior half the effort. Eventually, your closest friend will no longer require the shock collar to submit or behave, but they would never refuse a treat!
Step #4: Introduce the Come Command
Ensure your dog feels safe and secure in your training area, whether inside the house, the backyard, or elsewhere. Let them jog away from you a few meters. Then request that they come to you. Give a quick press of the stimulation, vibration, or tone while saying the phrase "come." When they approach you, acknowledge them with an "excellent dog" or "good boy!" You may also give a treat as a reward.
Step #5: Repeat
Repeat step 4 until your dog can consistently follow the command. When your pet can successfully comply, reward them with praise and treats.
Always keep in mind the three steps: "Tap," "Command," "Praise!" and "Treat."
Make It Challenging
Once your dog has mastered the command, gradually increase the distance until you are no longer in his line of sight, and then lengthen the duration. You can do this in the park, which is plenty of diversions. 
It takes a lot of patience and a positive outlook to teach a dog to come. It's crucial only to train your dog when you're in a good mood, comfortable, and able to commit to a set amount of time.
Additionally, it's essential only to use positive reinforcement while teaching the dog the come command. It means rewarding good conduct rather than punishing bad behavior. Avoid calling your dog when upset or trying to punish your dog. Even calling a dog inside to be created, ending a play session with other dogs, or having an unwelcome wash might make it more difficult for them to remember the command later.
If you and your pup are ready to venture into new training challenges with an e-collar, here are some of PetsTEK's picks for the best e-collar for basic dog training.
1. Dogtra 280C Remote Training Collar
This field training collar is excellent for long-distance training, hunting, and large properties. It includes a 1-mile range and a pager on the remote control so you can gently vibrate to get your dog's attention. (Incidentally, if you have a smaller breed of dog, the Dogtra 200C is the little brother to the 280C and is one of the best shock collars for small breeds.)
2. Mini Educator ET-300 by E-Collar Technologies
One of the most popular e-collars available, the Mini Educator has several variants – from yellow to black to the Zen design. It features 100 levels of static stimulation and a unique "Pavlovian Tone" training option.
3. SportDog SD-425X FieldTrainer Remote Training Collar
The waterproof and weatherproof features that the SportDog collar offers are also present in this hunting shock collar. This model's remote can accommodate up to three collars if you have more than one dog. This unique remote-controlled shock collar can be an excellent teaching tool for hunting and basic obedience when used appropriately.
4. Dogtra 1900S Remote Training Collar
The 1900S remote training e-collar has 127 levels of stimulation. You may adjust the shock intensity to the lowest functional level at which your dog responds, giving you more exact control. Because more challenging breeds like German Shepherds are not typically able to handle greater values without batting an eye, having the extra power is crucial for exceptionally stubborn dogs.
Basic obedience training is important for all dogs, regardless of age. The "come" or recall command is one of the more powerful at your disposal. Just remember, however, that training takes time and patience. If your dog (or you!) is not responding or is getting frustrated, stop and take a break. Training may be crucial, but it's also a time for you to bond and communicate better with your pet. Good luck!