Dogtra Collar Buying Guide 2023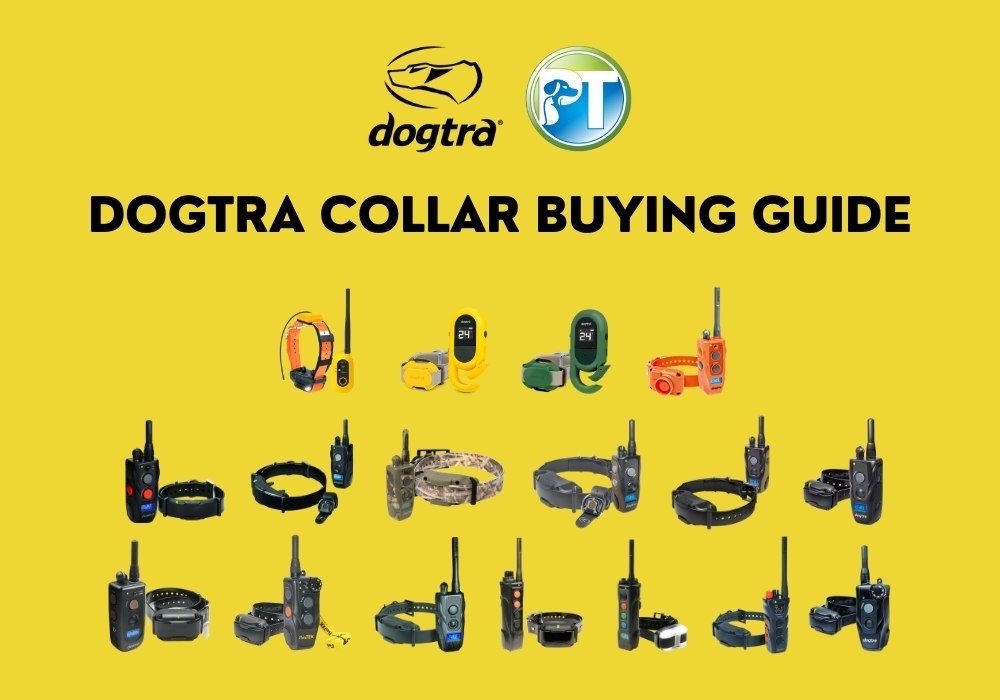 This article was updated on July 4, 2023.
There are plenty of remote training e-collars brands available today. Each brand further carries different makes and models. Because of this, trying to decide what to purchase can become overwhelming. This is especially true if you are purchasing your first e-collar. 
Choosing the right remote trainer for your pet is one very crucial step in achieving dog training success. In this blog, we'll discuss one of the most popular and reputable remote training collar brands today – Dogtra. Find out what you should look for and what you should consider when buying Dogtra e-collars below.
(No time to read? Skip to the bottom for a handy buying chart.)
Who is Dogtra?
Dogtra has been a leading name in dog training tools for over 30 years. They have been making e-collars, GPS tracking tools, and ball training tools for dogs in collaboration with industry professionals. They are a member of the Electronic Collar Manufacturers Association (ECMA) and the Partnership for Electronic Training Technology (PETT). Their manufacturing facilities have all been certified for environmental management and quality management standards.
Features of Dogtra Remote Training Collars
Dogtra remote training collars typically come with these features:
1. Stimulation Control
Dogtra boasts of their patented "Exact-Stim." This stimulation control feature allows you to select the precise correction level to match your dog's temperament. Dogtra static stimulation collars usually come with over 100 stimulation levels. The exact-stim, coupled with a rheostat dial, ensures no large jumps between levels.
2. Types of Static Stimulation
E-collars are also known as shock collars for a reason. They usually use static shock to issue corrections. However, it must be noted that the shock generated by these collars are not meant to hurt dogs at all. In fact, the shock produced is even lower than the static from carpets in low humidity weather.
Dogtra collars feature:
Nick Stimulation
Constant Stimulation
Nick is a momentary burst of stimulation. This is ideally used to get your dog's attention quickly and instantly. Meanwhile, the constant stimulation allows you to deliver a continuous stream of static for up to 12 seconds before the auto shut-off kicks in to prevent overstimulation. This is recommended for more demanding or highly distracting situations or if you have a rather stubborn dog.
3. Other Types of Stimulation
Depending on the model, your Dogtra remote training e-collar can also have additional stimulation types:
a. Vibration
The non-stimulating vibration function is usually referred to as a "pager" in Dogtra manuals. This is a great alternative if you prefer not to use static correction. It's also a good option for shy and timid dogs as well as dogs with hearing impairments. Trainers who have corrected with static also often switch to vibration once their dogs have started being more consistent with following commands. 
b. Tone
Similar to vibration, the audible tone option is another alternative to static.
4. Output Levels
Output refers to how much power is generated by the device. Dogtra collars come in two different stimulation output units:
Low/Medium – recommended for small dogs and those with sensitive or mild dispositions
Low/High – for more demanding training environments or stubborn temperament dogs
5. Receiver E-Collar Size
Dogtra collars can fit dogs as small as 10 pounds. Since the low/medium output units are usually designed for smaller dogs, these e-collars also have reduced-size collar receivers to make them more comfortable to wear. The low/high output units are designed for dogs 20 pounds and larger.
6. Range
It's not called a "remote" trainer for nothing. Remote training collars allow you to keep control of your dog over wide spaces or where your voice commands can't easily be heard. With ranges that cover a few hundred yards to a few miles, a Dogtra collar is perfect for any situation. You can train indoors, in your backyard, out on the field, park, or farm; off-leash training can be easy and worry-free.
7. Waterproof Design
Most of Dogtra's remote training collars are fully waterproof, including the handheld transmitter and the collar/receiver. You can train in adverse weather conditions or near bodies of water without worry.
8. Batteries and Charging
Dogtra's remote training devices are outfitted with Lithium-Polymer batteries that charge in 2 hours.
Most Dogtra remote transmitters also have an LCD screen to allow you to see the exact stimulation level as well as the battery level.
Narrow Your Choices
You know the features, but there are a few other things to consider before committing to any one model.
1. Situation and Environment
a. Why are you buying an e-collar?
This is perhaps the most important question. What is the e-collar for? It will determine which model is best for you and your dog.
For example, do you have a dog that likes to bolt and run off but is otherwise obedient? Then a basic obedience collar should be fine to teach better recall. Do you have a dog that stubbornly refuses to listen to your commands? Then you need a high output collar.
Knowing why and what you need the collar for should help you narrow your buying choices.
b. Where will you be using the collar? 
You must match the function to the location. If you live near the beach, for example, a waterproof collar is a must. If you'll mainly be using the e-collar when you take your dog on hikes, then you may want to consider a collar with GPS capability or a more extended range.
2. Dog's Sensitivity
It's easy to assume that a dog that doesn't listen to commands is stubborn or strong-willed. That's how many make the mistake of purchasing high power output collars that they don't really need.
Often though, a "stubborn" dog is just a dog that failed to get good training.
When it comes to determining your dog's sensitivity level, you really need to consider their reaction to physical stimuli. For example, if your dog is in a high-excitement state and chasing after "prey," will they think before jumping head-first into a thorny thicket? Will they jump into frigid waters in pursuit of that ball you threw without a second thought, or will they stop short?
If your dog will not think twice and hardly notice physical sensation when highly agitated, then a high output collar may just save them from dangerous situations. But if they're more aware, then a low/medium collar coupled with proper training methods should be fine. Of course, nothing is stopping you from buying a low/high output device. The fact that it's adjustable means it will still work. And if you have a few more bucks to spare, then go for it.
Now that we've gotten that out of the way, let's look at the available Dogtra models, and what is best suited for you and your dog's needs.
Choosing the Right Dogtra E-Collar
There are over 10 Dogtra remote training collar product lines available.
1900S Series – including the 1900S, 1900S Black, 1900S Wetlands, 1900S Handsfree Plus, and 1902S
200C Series – including the 200C and 202C
280C Series – including the 280C and 282C
ARC Series – including the ARC and ARC Handsfree Plus

Boost & Lock Series - including the 1900S Black B&L, 1900S Handsfree Plus B&L, 1902S Handsfree Plus B&L, ARC Handsfree Plus B&L, and 1900S Wetlands B&L

CUE Series - including the CUE Yellow and Green models

Pathfinder2 Series - including the Pathfinder2 and Pathfinder2 MINI

2300NCP
2700 T&B and its 2-Dog version, 2702 T&B
3500X and its 2-Dog version, 3502X
EDGE Series – including EDGE and EDGE RT
Dogtra has also partnered with other companies to produce co-branded collars like the 200NCPT PetsTEK edition remote training collar.
How are the above collars different from each other?
1900S
The 1900S series is a Dogtra bestseller. It is usually recommended for as varied needs as basic pet training, K9 training, and hunting dog training. It's a highly flexible and versatile device. Here's how each model in the line differs from each other.
The models in this series pretty much have the same features, except for the Black version that has a longer range. The Wetlands version is designed for hunters that prefer a device that can blend into the wetland surroundings. 
The 1900S series is not expandable. If you have more than 1 dog, you can consider the 2-dog version, the 1902S.
The Handsfree version was recently discontinued and replaced with the Handsfree Plus. Both come with a handsfree remote controller on top of the usual transmitter. The main difference between them being the older model can only support one handsfree controller while the Plus version allows up to 14. That makes the Handsfree Plus ideal for multiple users, households, or trainers working with clients. 
200C and 282C
If you have a milder to normal temperament dog in need of basic obedience training, then you can't go wrong with the 200C model. It has 100 levels of low to medium output static stimulation and a very compact receiver design that's also great for smaller canines.
If you prefer the more advanced features of other Dogtra collars but with medium power output, then go for the 280C.
Both models are not expandable but come in 2-Dog versions.
ARC
Unobtrusive and inconspicuous are two words you can easily and aptly use to describe the Dogtra ARC series. This e-collar includes an ergonomically designed collar that fits the curve of the dog's neck, making it almost indistinguishable from any regular collar.
Like the 1900S Handsfree, the ARC Handsfree also got a model upgrade with the release of the ARC Handsfree Plus. The set includes a handsfree remote along with the usual transmitter and collar set. A Handsfree kit that includes the regular transmitter plus the handsfree remote without a collar receiver is also still available for purchase while stocks last.
The Dogtra ARC remote training collar set is expandable to a 2-Dog system, while the ARC Handsfree and Handsfree kit are single-dog systems.
Boost & Lock
The Boost & Lock series is an enhanced edition of some popular Dogtra collars. With all the features you love being retained, the latest series offers two new ones: a customizable boost and stimulation level lock. This is an excellent choice for dog owners and trainers who want the most advanced features available.
This series includes several e-collar models, such as the 1900S Black B&L, 1900S Handsfree Plus B&L, 1902S Handsfree Plus B&L, ARC Handsfree Plus B&L, and 1900S Wetlands B&L.
CUE
The CUE series features a unique carabiner hook for on-the-go action coupled with a big main button and screen. It's a pretty straightforward tool that allows you to train on CUE.
The CUE (Yellow) is sold exclusively on Amazon, while the CUE (Green) is available everywhere else. Aside from the color, both come with completely similar features.
Pathfinder2
The Pathfinder2 series is an upgrade from the original Pathfinder series. Built for hunting dogs and field use, it has the longest range out of any Dogtra model.
The Pathfinder2 has a 9-mile range and comes with e-collar and GPS functionalities. Meanwhile, the Pathfinder2 MINI, the compact version, is packed with nearly all the features of its big brother. The only differences are its 4-mile range and smaller receiver design, which is ideal for smaller dogs.
(Note: Dogtra has yet to launch the Pathfinder2 TRX.)
2300NCP
The 2300NCP remote training collar is an advanced-level remote trainer that's ideal for training dogs for competition or K9 work. Unlike other Dogtra collars, this model is expandable to a 2-Dog system. You can simply buy another compatible collar and sync it to the same remote transmitter.
2700 T&B
T&B stands for Training and Beeper. The 2700 T&B is designed for upland hunters.
(Note: The T&B Dual system has been discontinued.)
3500X
The 3500X remote trainer is a professional-grade device that's recommended for advanced handlers. With a range of 1.5 miles, it's one of the farther-reaching Dogtra remote training collars and includes static stimulation, vibration, and tone options. This model is expandable to a 2-Dog system, but you can also buy a 2-Dog model, the 3502X.
EDGE
The Dogtra EDGE series is perfect for demanding training adventures, whether you're a professional or a dedicated amateur. This line has a 1-mile range and is more expandable than other Dogtra models.
200NCPT
Finally, we have the Dogtra 200NCPT PetsTEK Edition. This co-branded remote training collar comes with much of the same features as the 1900S, with one key difference – it has a tone function.
Summary
A remote training collar isn't a magic device, regardless of whether it's Dogtra or another brand. It acts as an invisible leash as much as it is a training tool. A good, high-quality e-collar like Dogtra can last you years and years and can even be passed on to a new generation of dogs. So do not think of the cost, but rather consider it an investment.
However, remember that the tool is only as good as the trainer. You will need a lot of time, patience, and consistency together with proper training methods to make well-behaved, obedient dogs. The right equipment is only the first step. The rest is up to you.
This article has been updated to include the most recent additions to the Dogtra remote training e collar lines.