The Dogtra HANDSFREE PLUS Series: 1900S vs ARC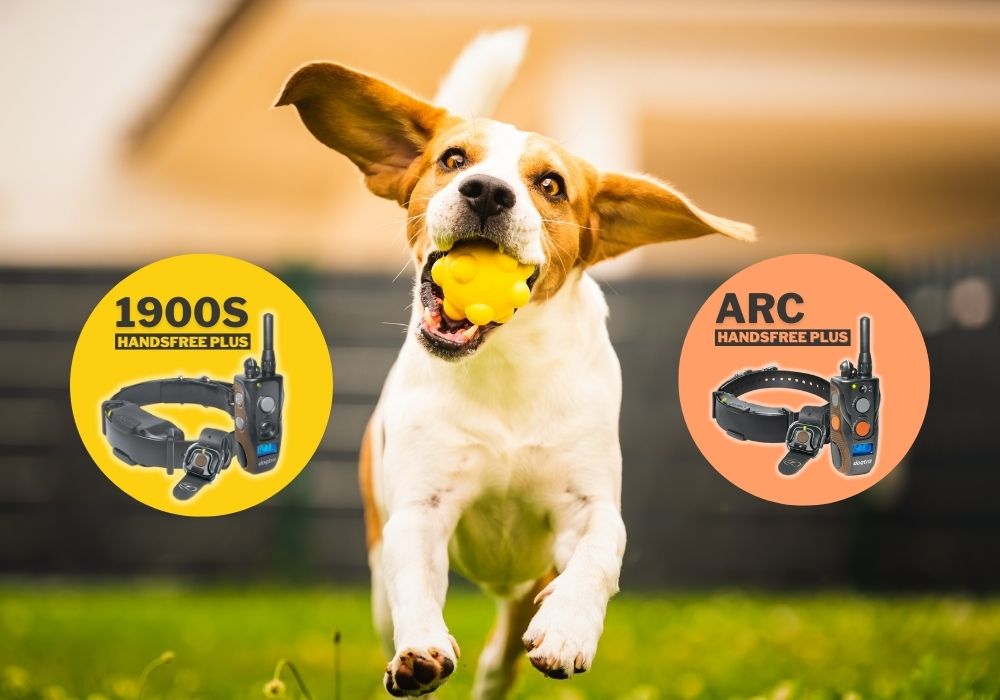 Pets deserve the freedom to run free without shackles. However, off-leash dogs may not be as obedient to their owners once they get a taste of freedom. When voice commands fail and your dog is hundreds of yards away from you, remote training e collars are there to the rescue.
Remote training collars serve as an extension to the leash. During walks and your dog attempts to run, your prompt reaction is to tug on the leash to stop them. But unlike a jerk your dog may feel after putting pressure on the leash, using a remote training collar is like a tap on your dog's neck or throat.
Remote trainers are more convenient, effective, and less likely to hurt your dog. Using an e-collar fosters better communication between you and your dog and strengthens the bond.
What is a Remote Training Collar?
A remote training collar (or remote trainer) is a remote-controlled e-collar. It's a dog training collar that is highly reliable for training your dog remotely or for off-leash dog activities. You can correct your dog's undesirable behaviors, reinforce learned commands, and teach impulse control with a remote trainer.
E-collars and dog shock collars are used interchangeably because they utilize "shock" in sending feedback. Unlike archaic shock collars that use high-level shocks, the static shock emitted by modern e-collars does not harm your dog and may only trigger a slight discomfort.
The invention of remote training collars is a technological breakthrough in the dog training industry. Instead of shouting at them or throwing projectiles at your dog, a simple press of a button can get your dog's attention and teach them commands.
Who is Dogtra?
Dogtra has been leading the industry in dog training tools that are not only effective but also safe that pass quality and pet safety standards. They are a member of the Electronic Collar Manufacturers Association (ECMA) and the Partnership for Electronic Training Technology (PETT).
With their broad product line, you can be sure to find the training device that's best for your dog. They have top-tier tools such as remote training collars, no bark collars, e-fences, and GPS tracking collars like the Pathfinder2.
(For more information, check out the Dogtra Collar Buying Guide 2022.)
For this blog, let's review Dogtra's latest HANDSFREE PLUS series - the 1900S HANDSFREE PLUS and the ARC HANDSFREE PLUS.
Here's a quick comparison of the two models.
What is a HANDSFREE PLUS?
The Dogtra HANDSFREE PLUS series features its latest invention, combining off-leash training with hands-free control. The "Plus" is in the form of the now-expandable HANDSFREE SQUARES. The HANDSFREE SQUARE is a compact controller that allows you to control the transmitter at a certain distance.
With a HANDSFREE SQUARE, you don't always have to carry your transmitter during training or outdoor walks. You can pair each SQUARE to different functions (Nick, Constant, or Pager) to set your preferred training mode for the occasion.
The Plus Sides of Expandable HANDSFREE SQUARES
Training and demonstration
The HANDSFREE PLUS is perfect for professional dog trainers working with new clients because of its expandable HANDSFREE SQUARES.
By fastening the HANDSFREE SQUARE around your wrist, palm, or finger, enjoy discreet, hands-free operation while training. This hands-free system also permits multitasking, allowing you to carry out other tasks but never lose control of your dog.
The unique part of the HANDSFREE PLUS series is that you can pair up to 14 HANDSFREE SQUARES for diverse scenarios like training with the family. Users with a paired HANDSFREE SQUARE can quickly access any feature at any time within 33 feet of the transmitter.
Feature Highlight #1: Expandability
While the 1900S HANDSFREE PLUS and ARC HANDSFREE PLUS have expandable HANDSFREE SQUARES, they differ in the number of dogs allowed to train concurrently.
The 1900S model is limited to a 1-dog system, whereas the ARC model is an expandable training system. The ARC HANDSFREE PLUS can be set up for your two dogs by simply pairing an additional collar to the handheld transmitter and HANDSFREE SQUARE.
However, if you fancy the features of the 1900S HANDSFREE PLUS, you should buy the 1902S HANDSFREE PLUS instead for a 2-dog setup.
Both Dogtra training collars should work well if you only have a dog to train. If you are raising two dogs, the ARC HANDSFREE PLUS is the best option to save costs and for convenience.
Feature Highlight #2: Stimulation Control
Dogtra e-collars have the patented "Exact-Stim" feature. This stimulation control offers a precise correction level to match your dog's temperament. Through a rheostat dial, the exact-stim gives you a wide range of stimulation without large jumps in between levels. This ensures accidental overstimulation is avoided and only the right stimulation level is sent to your dog.
Some e-collars only come with 100 stimulation levels. However, the 1900S HANDSFREE PLUS and ARC HANDSFREE PLUS provide more than sufficient levels of stimulation from 0 to 127.
Always start at the lowest level and dial-up when the need arises. When your dog's behavior changes, especially during increased excitement, there's no panic since you can easily adjust the intensity with their 127 stimulation levels.
Feature Highlight #3: Stimulation Output
Stimulation output indicates how much power can be generated by the training device. The Dogtra ARC HANDSFREE PLUS system has a low to medium output, while the 1900S unit offers low to high power stimulation.
With this, the ARC system is recommended for small dogs and those with sensitive and mild dispositions. On the other hand, the 1900S HANDSFREE PLUS is ideal for large, stubborn dogs and more demanding training scenarios with extreme distractions.
The secret to dog training success is choosing the right shock collar for your dogs and proper usage. Stubborn temperament dogs may require higher power stimulation than what is needed for small dogs, so consider this in your buying deliberation.
Feature Highlight #4: Training Modes
Training mode refers to how you want the stimulation to be delivered. Dogtra shock collars feature static corrections of either Nick or Constant. Pressing the Nick button will emit a single pulse of static correction while Constant mode sends continuous stimulation for up to 12 seconds.
The alternative stimulation type is vibration. It's a good option for timid dogs and dogs with hearing problems.
In this case, both Dogtra HANDSFREE PLUS have all three training modes.
Feature Highlight #5: Range
The best remote training collars are those that have a broader coverage area. Your dog can go as far as a mile away when off-leash. If this happens, a remote trainer that can cover only a few hundred yards may not serve its purpose.
Fortunately, the Dogtra HANDSFREE PLUS series has a ¾-mile range. Whether in the yard or field, both models are excellent choices for domestic pets and hunting dogs.
Please note, however, that the handsfree square needs to be within 33 feet of the transmitter to work.
Feature Highlight #6: LCD Screen Display
The LCD screen shows the level of stimulation on the screen ranging from 0 to 127. This tells you the exact stimulation level while sending the correction to your dog. Also, the screen displays the transmitter's battery life, indicating when it needs charging.
This feature is available in both models.
Other Features
IPX9K waterproof certified
The HANDSFREE PLUS models can withstand close-range, high liquid pressure from various points. With both transmitter and receivers fully waterproof, enjoy unhampered training near bodies of water or even when it rains. However, the HANDSFREE SQUARE is not waterproof.
Dogtra remote training collars are equipped with Lithium-polymer batteries that charge quickly in 2 hours. The HANDSFREE PLUS models are no exception, saving you from additional costs from buying replaceable batteries.
Key Features:
¾-Mile Range
0-127 Stimulation Levels
Low to High Power Output
Expandable HANDSFREE SQUARES
Nick/Constant Stimulation
High-Performance Pager (HPP) Vibration
LCD Screen Display
Fully Waterproof Transmitter and Receiver
Rechargeable Lithium-Polymer Batteries
Best for Dogs with Hearing Impairments
For Dogs with Stubborn Dispositions
For Dogs as Small as 35 Pounds
Pros:
High Power Output
HPP Vibration
Cons:
Costs slightly more than the ARC HANDSFREE PLUS
Not expandable to a 2-dog system
Key Features:
¾-Mile Range
0-127 Stimulation Levels
Low to Medium Power Output
Expandable HANDSFREE SQUARES
Nick/Constant Stimulation
Non-Stimulating Pager Vibration
LCD Screen Display
Fully Waterproof Transmitter and Receiver
Rechargeable Lithium-Polymer Batteries
Expandable into a 2-Dog System
For Dogs with Sensitive and Mild Dispositions
For Dogs as Small as 15 Pounds
Pros:
Expandable training system
Bit cheaper than the 1900S HANDSFREE PLUS
Con:
Not recommended for stubborn dogs
Final Thoughts
Remote training collars are effective tools for remote training. These ecollars are very convenient since you don't necessarily need a dog trainer to use them properly. They come with detailed and easy user manuals to guide you in the process. Once your dog learns to behave off-leash, they enjoy more freedom and play time than ever.
The HANDSFREE PLUS series is the latest upgrade in Dogtra's line of remote trainers. Your dog training should start with choosing the right e-collar that's best for your dog's temperament and needs.
1 comment