Have Dog, Will Travel! – 6 Tips to Travel Better with Your Dog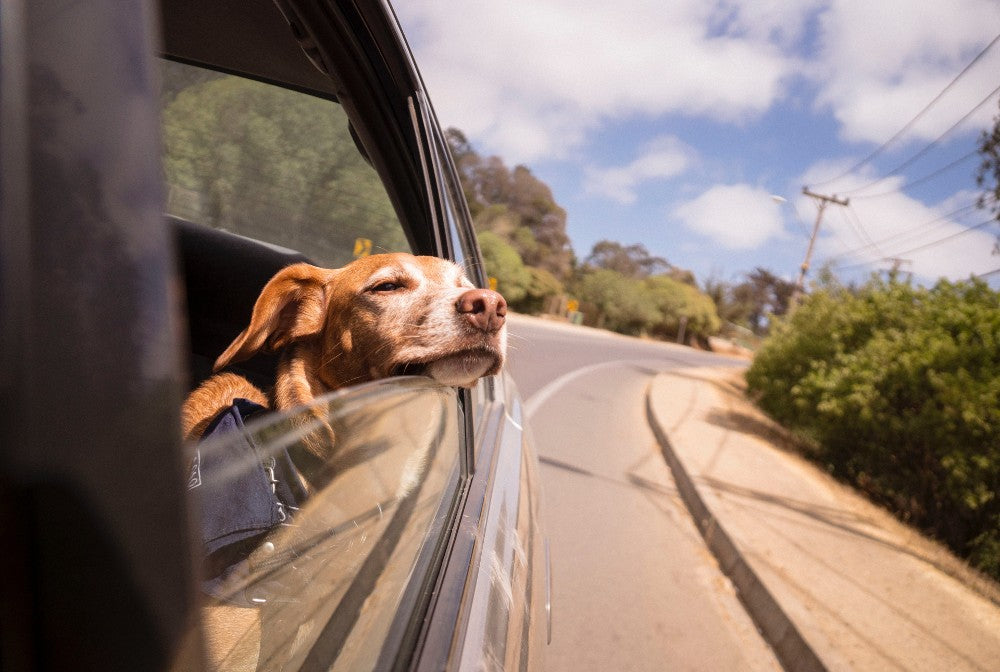 In the United States, over 38% of all households own a dog. Less than 20% took their pets with them just a mere decade ago when they traveled. In 2018, at least 4 in every 10 took more pet-inclusive vacations. With 28% of Americans finding pets to be more fun than people, this trend doesn't seem to be going away anytime soon.
And why not? Taking a dog along the family vacation can make for fun for everyone. Unfortunately, while trips generally produce happy memories, the planning can be a stressful experience. Whether you're moving long-distance or just taking a quick break, how well you plan and prepare will affect how successful and satisfying the trip could be.
So, before packing and going, take some time to look at these tips to make traveling with your dog more manageable and a little bit more stress-free.
Dog Travel Tip #1 – Vet Knows Best
Your dog needs to be physically fit for travel. Your "dogtor" will know if they are prone to anxiety and nausea. He will be in the best position to tell you if traveling with your dog is something you can do. Your veterinarian can also give further tips on how to keep them safe and comfortable during the trip and if any medication is needed.
Always check the nearest veterinary emergency hospital and save it on your phonebook for emergency purposes. Save the number of his regular veterinarian on your mobile if you need to contact them.
Dog Travel Tip #2 – Practice Makes Perfect
Over half of American dog owners have taken their pets on at least one car ride every month. These short trips help train dogs to be comfortable inside a moving vehicle.
If, however, your dog is not used to sitting still for long periods, it helps to "practice." Start by letting them sit in the car without going anywhere. Gradually lead to taking quick trips to the park, so they get the hang of sitting beside you.
If your dog will be crated during the trip, give them time to get accustomed to it before traveling.
Dog Travel Tip #3 – Preparation is Key
Most successful travel is always rooted in good preparation; the same is true for humans or dogs. These are essential regardless of the mode of travel you plan to do:
Bring food, water, and toys. Toys, especially, help ease anxiety in your pets. It also alleviates boredom and feelings of isolation.
Let your dog travel on an empty stomach. This is to avoid accidents, especially if your dog is prone to motion sickness.
Traveling by Car
Consider bringing their crate or getting a dog seat or dog seat belt when traveling by car. This helps keep your pet safely in their seat, but it also helps avoid them sticking their head outside the car window.
Remind yourself to stop more frequently so you can let your dog pee or stretch their legs. A break every 2-4 hours is ideal.
Keep your dog hydrated during the trip.
Be with your dog at all times. If you need to leave them, have someone to look after them.
Traveling by Plane
Airplane travel is a little bit more complicated compared to car rides. For one, your dog will not have the opportunity to "sightsee" along the way. Being confined for the duration of the trip may be traumatic for them, whether they end up under your seat or in the cargo hold.
Familiarize yourself with your airline's pet policy and possible restrictions at your destination.
Make sure you have your dog's health certificate updated and handy. Most airlines require this at least 10 days before the travel date.
Book early. You don't want to put this off until too late and not have availability for your dog.
Take a direct flight. This takes the extra stress of transferring between flights out. It's also typically less hectic to travel on a weekday.
Get a suitable pet carrier. Soft-sided carriers are best for carry-ons, while hard plastic is better if your dog is on the cargo hold. Ensure the carrier has good ventilation and allows your dog to stand, turn, and lie down comfortably.
Continue giving your dog water until it's time to check-in.
Do NOT give your dog a tranquilizer unless recommended by your vet. Sedatives can cause respiratory problems at high altitudes.
Traveling by Bus, Train, or a Boat
Always check if the train, bus, or boat allows dogs before anything else. Most of the time, only dogs under 20 pounds are permitted onboard. Each country or city also has its policy regarding animals on trains, boats, and buses.
In the case of boat rides, cruises are generally better, but it is still best to review the regulations first.
Dog Travel Tip #4 – Getting There is Only Half the (

Battle)

 Fun
While getting to your destination will likely take up the bulk of your preparations, do not think that's all there is to it. Arriving at your destination also requires some planning and coordination.
So-
Make an advance inquiry if the hotel or property you booked allows dogs. Some may have size restrictions or charge extra for bringing a pet.
After arriving, take your dog on a long walk before checking in. This helps your pet acclimatize to their new environment and reinforces that the same rules apply even in this new place.
Keep a list of dog-friendly attractions and restaurants in the area.
Dog Travel Tip #5 – A Well-Trained Dog is a Perfect Travel Companion
A well-mannered or calm dog will be a less stressful companion on a trip or vacation. You can prepare them for the journey by training them with basic to advanced skills or behaviors. A good dog training collar will help you achieve your perfect vacation with your furry best friend.
PetsTEK lists down some of the best e-collars that you can use to prepare your dog. Remote training collars make efficient and effective dog training tools when used correctly.
1. SportDog – SD-1225X SportsHunter Remote Training Collar
The SportDOG Brand SportHunter 1225X is great for basic dog training. It's also flexible enough to go from yard to field for more advanced training.
The SportDOG SportHunter 1225X has a ¾-mile range, 21 levels of continuous static stimulation, 7 levels of momentary stimulation, a low to high power output, vibration, and tone. It's a fully waterproof e-collar that can be customized for dogs of any size and behavior. The best thing is it's expandable to a 3-dog system with the purchase of SportDOG Add-A-Dog collars.
2. SportDog-SD-1825X Camo-WetlandHunter Training Collar
SportDOG SD-1825X Camo, tagged the "WetLandHunter" remote trainer, gives your dog freedom while outdoors. This dog shock collar lets your dog roam around and check the area without losing control. This is also one of the best hunting e-collars available today.
The SportDOG Camo WetLandHunter has a 1-mile range. It comes in a functional camouflage pattern, is waterproof, has 21 levels of static stimulation, vibration, and tone, and is expandable to up to 6 dogs, and fits dogs 8 pounds and up.
3. SportDog SD-425X FieldTrainer
The SD-425X Field Trainer is the lightest and smallest SportDOG brand training e-collar. This is a suitable tool for basic dog training and for developing sporting breeds. With its range, this is helpful for basic obedience training in yards or parks. It can be adjusted based on the need and temperament of your dog.
The SD-425X Field Trainer has a 500-yard range, includes 21 levels of static stimulation, vibration, and tone, is fully waterproof, and is expandable to up to 3 dogs. This can be worn by dogs 8 pounds and up.
4. Mini Educator ET-300 Remote Dog Training Collar by E-Collar Technologies
The Mini Educator collar is always a favorite among pet owners and trainers. The stopwatch-style remote is small, compact, and perfect for one-hand operation. On top of that, the ET-300 has a tracking light like other E-Collar Technologies collars. That is particularly helpful if you drop the remote while adventuring with your doggo. The Mini Educator comes in yellow and black and in a very trendy Educator Zen 300 design.
If toting around a remote trainer in full view is not your cup of tea, consider the Dogtra ARC Handsfree Plus. This Dogtra dog collar has a good range at ¾ mile and comes with 127 low to medium static stimulation levels. It also has a vibration function. The best feature, however, is the "handsfree square." This tiny device goes around your palm and discreetly lets you control your dog.
If you have a dog prone to barking at all hours, however, it may be best to pack a no bark collar with you on your trip.
A no bark collar for small dogs like the Dogtra YS 200 or the Dogtra YS 300 can help keep your small canine quiet and ensure the hotel staff doesn't kick you out for the noise. Bigger dogs can benefit from the BP-504 Anti Bark Collar by E-Collar Technologies or the SportDog SBC-R No Bark Collar. Both are fantastic no bark collar for medium and large dog options.
Dog Travel Tip #6 – Always Keep Your Dog in Sight
Finally, it cannot be stressed enough. The risk of losing your furry companion while on vacation or traveling is high. Therefore, it is essential to have a good leash. A dog collar that includes the dog's name, the owner's name, and contact number is a must. Put a recent picture of your dog in your pocket or your mobile. Keep a copy of his health record since this also helps retrieve your dog.
You can also consider using a GPS dog collar, so you know where your pet is at all times. While GPS is typically used in hunting collars, that's not all they're suitable for. In fact, many pet owners opt to use GPS e-collars for tracking their pets over tagging them with a microchip. The Pathfinder by Dogtra or the SportDog TEK Series collars provides excellent range and tracking capabilities. GPS e-collars tend to be pricey but are worth it if it means not worrying about losing a pet.
If you plan to stay in any place for longer, one other option to consider is a wireless e fence or a portable fence. This gives your dog the freedom to explore while on vacation without you worrying they'll end up gone.
Among the best wireless e-fences in the market are:
1. PetSafe - PIF00-12917 - Stay & Play Compact Wireless Fence - Wireless E-Fence
A portable e-fence with static-free re-entry, this wireless fence system trains your dog to learn about his boundary quickly so you can relax while on vacation without fearing them wandering and getting lost—a safe way of keeping your dog where you want them to be.
This includes 5 levels of static corrections and tones, can cover as wide as ¾ acre, is portable, waterproof, easy to set up, and expandable. Suitable for dogs 5 pounds and up.
2. PetSafe - PIF00-13663 - Stay & Play Wireless Fence for Stubborn Dogs - Wireless E-Fence
A stay-and-play wireless e-fence that will let your dog walk, run or roam within the designated area. This will give them some freedom to check the property and be outdoors while on a trip.
This is easy to install, easy to use, and portable. Has ¾ acre of circular coverage, includes 5 levels of correction with tone-only mode, rechargeable receiver collar, waterproof and expandable. Can fit dogs that are 5 pounds and up.
3. PetSafe - PIF00-15001 - Stay and Play - Wireless E-Fence
Be worry-free with the help of this fully wireless e-fence. The ease of not worrying if a fence can be installed in a rented property for your vacation is possible by using this e-fence.
This wireless e-fence includes 5 levels of adjustable static correction and tone-mode only, has a circular coverage of up to ¾ acre, automatic safety shut-off, no wire to bury, is easy to set up, waterproof, and expandable. For dogs 5 pounds and up. Can fit neck sizes from 6 inches to 28 inches.
4. PetSafe - PIF-300 - Wireless Pet Containment System - Wireless E-Fence
A trusted tool to keep your pets within the vicinity of the house or yard. This is an excellent wireless e-fence if you will rent a villa while on vacation. Your dog's safety is crucial as yours. Keeping them with you all the time may not be easy, especially if you are traveling. Protect them from tragedy or harm by using this wireless e-fence.
Has an adjustable circular coverage of up to ½ acre, includes 5 levels of adjustable correction and tone-mode only, is fully portable, has no wires to bury, and is expandable. Can be used for dogs 8 pounds and larger. With neck size from 6-28 inches.
Traveling with a Dog - Packing List
Don't forget to pack the essentials and get travel-ready with your pet dog.
Health Certificate
Medical Records
Veterinarian's Contact Information
Vet's Emergency Contact at Destination
Dog Comb or Brush
Flea-Control Products
Dog Food and Treats
Water
Any Needed Pet Medication
Pet Wipes and Other Grooming Products
Paper Towels
Food and Water Bowls
Toys
Leash and Collar with ID Tag
Crate 
Nice to have, as needed:
Dog's Favorite Bed or Blanket
Dog Training Tools like E-Collar, No Bark Collar, or GPS Collar
Portable, Wireless E-Fence
Traveling with a dog can be rewarding. But make sure you do your due diligence and prepare appropriately for the trip to make it fun for your dog and yourself.