Pet Doors: The Convenience and Freedom Your Pet Deserves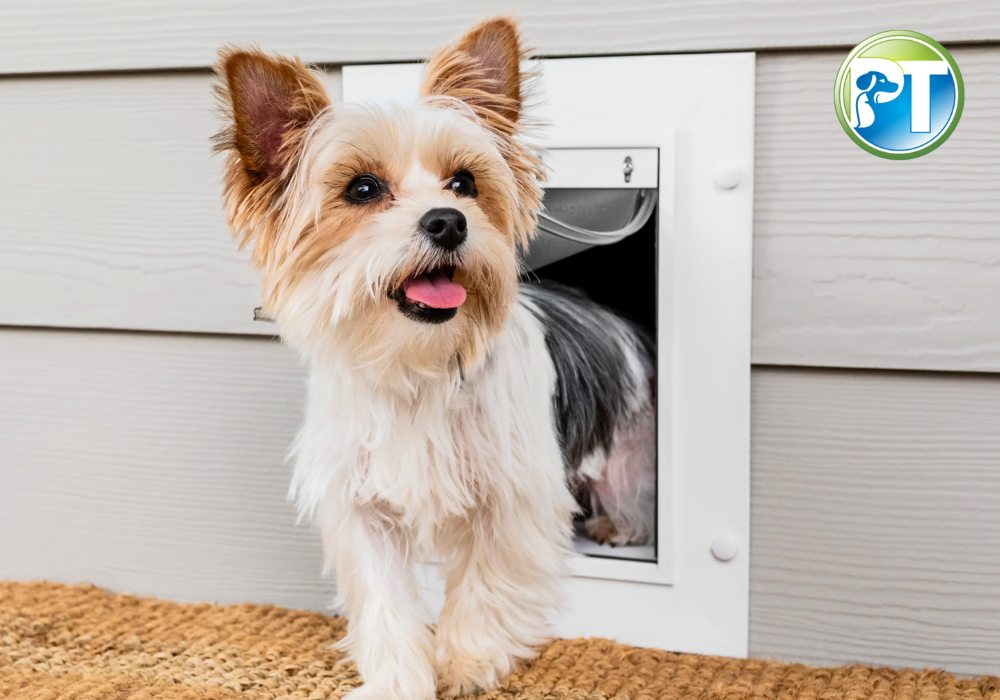 Do you find it exhausting to constantly open the door for your puppy whenever they need to go potty? This can be particularly tiring when you're trying to relax or get some work done. Moreover, how do you manage when you're sleeping and your puppy needs to go out in the middle of the night?
This is where a pet door comes in! If you're not familiar with pet doors, or if you're not sure how they work, don't worry. We'll cover everything you need to know.
What Are Pet Doors?
A pet door is a flap installed in a door or wall. This can also be called a cat door, dog door, dog flap, or flap door, whichever you prefer.
Flap doors allow your pet to go outside and come back in without you having to open the door. They open and close manually, typically by your pet pushing on the flap with their nose or paw.
Why You Need a Pet Door
When it comes to pet ownership, convenience and your pet's well-being are top priorities. Pet doors offer a variety of advantages that can enhance both your life and your pet's. Let's explore these below:
Pet doors give your beloved companion the freedom to come and go as they please. This allows them to enjoy the outdoors, get exercise, and relieve themselves without relying on your schedule. This can be especially beneficial for cats, who are naturally curious creatures, and for dogs who enjoy spending time outdoors.
Convenience for Pet Owners
A door with a pet door is a convenient solution for pet owners. It makes life easier for you. You won't have to constantly open doors for your pet when you're occupied with other tasks. It is also helpful if you need to be away from home for long periods.
With a dog door, your pet can quickly access the yard when nature calls. This can help reduce accidents in your home, especially if you have a puppy or senior dog.
Mental and Physical Stimulation
Regular outdoor access provides your pets with essential mental and physical stimulation. Your pets can exercise, explore, and play, which helps them stay healthy and happy.
Outdoor exposure also offers a variety of sensory experiences that can stimulate your pet's mind. New sights, sounds, and smells can help them feel enriched and engaged.
Many modern pet doors are designed with energy efficiency in mind. They have seals and insulation that help maintain your home's temperature, reducing heating and cooling costs. This can significantly reduce your energy bills, especially if you live in a climate with extreme temperatures.
How to Choose the Right Pet Door for Your Pet
To choose the right pet door, you should consider the following factors:
1. Size Matters
When choosing a pet door, the size is one of the most important factors to consider. It should be large enough for your pet to comfortably pass through. However, you also don't want to choose a pet door that is so large that it compromises security or energy efficiency.
2. Pet Type
Some flap doors are designed for dogs, while others are designed for cats. There are also pet doors that can be used by both dogs and cats. If you have a large dog, you will need to choose a pet door that is strong and durable. If you have a small cat, choose a small pet door to prevent predators from entering your home.
3. Pet Door Placement
Decide where you want to install the pet door. Will it be in a door, a wall, or a window? The installation location will determine the type of pet door you need. There are pet doors specifically designed for doors, walls, and windows.
4. Energy Efficiency
Consider doors with weather stripping (help seal any gaps around the door) and insulated flaps to reduce energy costs. Insulated pet doors typically have two or more flaps with a layer of insulation between the flaps. This creates a barrier that prevents cold or warm air from entering or leaving your home, depending on the climate.
5. Security Feature
Security is a top concern. Look for pet doors with built-in security features, such as closing panels. This will help prevent unwanted entry and ensure your pet's safety.
6. Material and Durability
Find a pet door made from durable materials that can withstand wear and tear. Weather-resistant materials are crucial for longevity, especially if the door flap will be exposed to the elements. Some common durable materials used for pet doors include plastic, metal, and aluminum.
7. Ease of Installation
Some pet owners prefer DIY installations, while others may opt for professional installation. There are a few factors to consider when making this decision, such as your budget, skill level, and the complexity of the installation.
If you are on a tight budget, DIY installation can be a great way to save money. Pet doors are typically sold with detailed installation instructions. So, even if you are not an experienced handyman, you should be able to install it yourself.
How to Install a Pet Door
Installing a pet door is a simple process, as long as you follow the steps in the installation guide.
Materials and Tools Needed
Pet door kit

Measuring tape

Saw

Drill

Screwdriver

Level

Pencil or marker

Safety goggles

Masking tape
Installation Steps
Here's a general guide on how to install a door flap based on standard installation procedures:
1. Measure your pet: Measure the height and width of your pet, ensuring the opening of the pet door is appropriate for their size.
2. Prepare the area: If installing in a door, remove it from its hinges and lay it flat on a stable work surface. If installing in a wall, clear the area and ensure there are no electrical or plumbing lines where you plan to cut.
(Caution: Avoid installing the pet door in a door that leads to a busy street or other dangerous area.)
3. Mark the placement: Use a tape measure and level to mark the desired height and location of the pet door on the door or wall. Make sure that the marks are straight and level.
4. Trace the template: Most pet doors come with a template. Secure the template to the door or wall where you marked it. Use a pencil or marker to trace the outline of the template.
5. Drill the corners: Drill holes in each of the four corners of the template.
6. Cut along template lines: Use a jigsaw or reciprocating saw to cut along the traced lines. Remember to wear safety goggles when cutting.
7. Place the pet door frames: Insert the interior and exterior frames into the opening. Use the provided screws to secure them in place.
8. Reattach the door (if applicable): If you removed the door from its hinges, reattach it after installing the flap door.
(Images sourced from PetSafe Pet Door Installation Video)
PetsTEK's Picks
The PetSafe Extreme Weather Aluminum Pet Door is an innovative solution that allows your pet to come and go as they please. Simultaneously, it ensures your home remains energy-efficient and secure.
With its triple-flap system and magnetic seal, this cat and dog door prevents drafts and pests, even in extreme weather conditions. The durable aluminum frame can withstand heavy use and handle multi-pet households.
Features
Most energy-efficient aluminum cat and dog door

Gives your pets the freedom to come and go as they please

Blocks 3 times more thermal energy than standard pet doors

three-flap system with a magnetic seal to prevent drafts

Premium, durable aluminum frame for long-term use

Slide-in closing panel for added pet safety and weather protection

Easy installs in most exterior wood, paneled, PVC, and metal doors
Available in 3 sizes: 
- for cats and dogs up to 40 pounds
- for dogs up to 100 pounds
- for dogs up to 220 pounds
How to install the PetSafe Extreme Weather Aluminum Pet Door
The PetSafe Wall Entry Pet Door is the perfect solution for homes where door installation isn't possible. It easily installs in walls, with an optional extension tunnel available for thicker walls. It also includes a closing panel that controls your pet's access, keeping them safe during adverse weather conditions.
Features
Best option for homes where door installation isn't possible

Let your pet play and potty whenever they need to

Installs easily in any interior or exterior wall

Durable, plastic frame built to last

Closing panel to control your pet's access
Available in 3 variants: 
- for cats and dogs up to 15 pounds
- for dogs and cats up to 40 pounds
- for large dogs up to 100 pounds
How to install the PetSafe Wall Entry Pet Door
The PetSafe Extreme Weather Pet Door prioritizes both safety for your pets and energy efficiency for your home. Its three-flap system provides superior insulation, making it 3.5 times more energy-efficient than standard single-flap doors.
It's also easy to install in any paneled, wood, metal, or PVC door. The white plastic frame can be painted to match your home décor, so the pet door will blend seamlessly into your home.
Features
Three-flap system for better energy efficiency than traditional pet doors

All-weather design for hot and cold climates

Snap-on closing panel for pet security

Paintable frame for a seamless match to your door

Easy installation in standard-size doors
Available in 3 variants: 
- for cats and dogs up to 15 pounds
- for dogs and cats up to 40 pounds
- for large dogs up to 100 pounds
How to install the PetSafe Extreme Weather Pet Door
You might also enjoy...