Best Bark Collars for Stubborn Dogs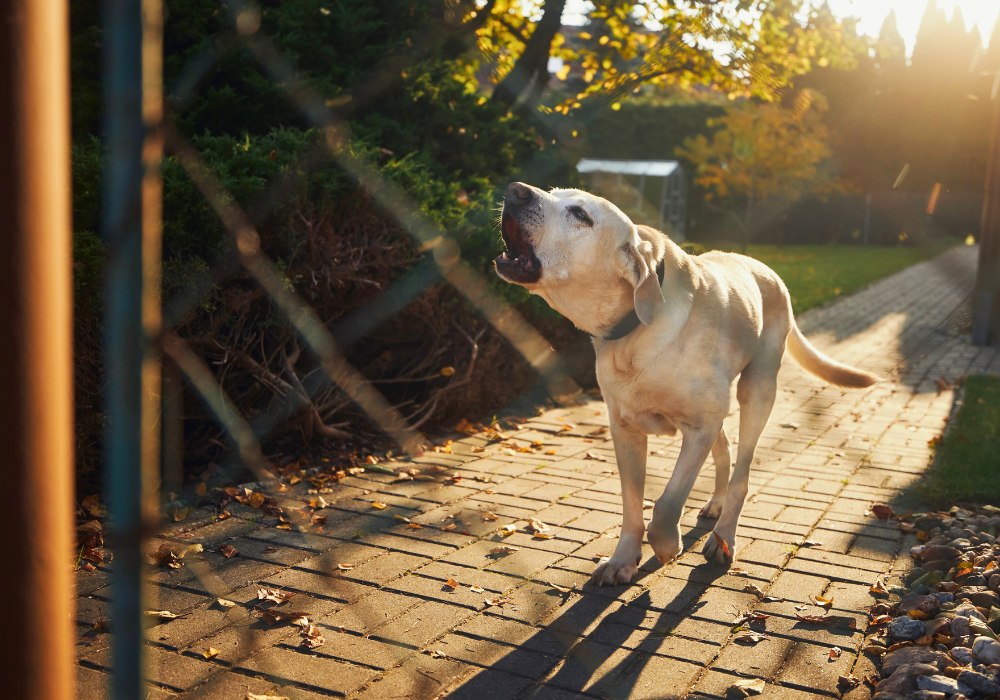 In dog training, one size definitely doesn't fit all. Some pups eagerly obey commands, while others may be more headstrong. Training stubborn dogs can be challenging, but there is hope.
If you have a stubborn dog that barks excessively, there are several things you can do. One option is to use a dog bark collar. However, not all bark collars are created equal, and some may be more effective for specific dogs.
In this blog post, we'll guide you through choosing the best bark collar for your stubborn dog.
Types of Bark Collars
A. Static Bark Collars
Static bark collars deliver mild static stimulation to the dog when it barks. This correction is meant to deter the dog from barking by associating the undesirable behavior with an unpleasant sensation. When your dog barks, the collar's sensor detects the vocalization and triggers the correction, creating a conditioning effect over time.
Pros and Cons for Stubborn Dogs
Pros
Instant correction:

Static bark collars provide a quick and consistent response to barking, which can be effective for stubborn dogs with barking issues.

Adjustable intensity:

Many static collars have adjustable intensity levels to ensure they can effectively deter barking.

Convenient:

Static no bark collars are generally battery-powered and lightweight, making them convenient for outdoor use.
Con
Risk of misuse:

Inexperienced users may misuse the collar, causing harm to the dog or making its behavioral problems worse.
B. Citronella Bark Collars
Citronella bark collars function through a unique mechanism that does not involve static stimulation. When a dog barks, the collar's sensor detects the vocalization and releases a burst of citronella spray towards the dog's snout.
Effectiveness for Strong-Willed Dogs
Pros
Humane and safe:

Citronella is a natural essential oil that is harmless to dogs. It works by aversion, conditioning the dog to associate excessive barking with an unpleasant scent.

No risk of static discomfort:

Citronella collars eliminate the concerns associated with static collars, making them a popular choice for pet owners.
Cons
Limited impact on stubborn dogs:

Some exceptionally stubborn dogs may become desensitized to the citronella scent over time. In these cases, these dogs may continue barking despite the unpleasant smell.

Refill expenses:

Citronella bark collars require regular refills of citronella spray, which can add up over time.

Potential allergic reactions:

While rare, some dogs may experience mild skin irritation or allergies to the citronella spray,
C. Ultrasonic Bark Collars
Ultrasonic bark collars operate on a unique principle that avoids physical contact with the dog. When your dog barks, it emits a high-pitched ultrasonic sound that is inaudible to humans but unpleasant to your pup. This sound disrupts your dog's barking pattern and discourages further vocalization.
Suitability for Stubborn Dogs
Pros
Non-invasive and humane:

Ultrasonic bark collars do not deliver any physical correction or spray, making them a gentle and humane training tool. The ultrasonic sound is an aversive stimulus that discourages barking.

Consistent and automatic:

Ultrasonic collars are triggered automatically when the dog barks excessively, ensuring a consistent response to the unwanted behavior. This can be helpful for stubborn dogs, who may be more likely to ignore commands from their owners.
Cons
Reduced effectiveness in outdoor settings:

Ultrasonic no bark collars may be less reliable outdoors, especially in noisy environments. Ambient sounds can interfere with the collar's ability to detect the barking, reducing effectiveness.

Non-adjustable:

Most ultrasonic bark collars are non-adjustable, emitting a fixed level of ultrasonic sound when triggered. Unlike other bark collars, where you can often adjust the intensity of the correction, ultrasonic collars do not offer this feature.
D. Vibration Bark Collars
Vibration bark collars deliver a mild, non-painful vibration or motion stimulus when the dog barks. These collars typically include a microphone or sensor that detects the sound or vibration of a dog's bark. When the sensor detects barking, the collar responds by sending a vibration to your dog, discouraging further vocalization.
Pros and Cons for Highly Determined Pups
Pros
Non-harmful and humane:

Vibration bark collars provide a humane approach to reducing excessive barking.

Effective for many dogs:

This type of anti-bark collar can be effective for a wide range of dogs, including stubborn ones.

Adjustable intensity:

Many vibration collars are customizable, allowing you to adjust the strength of the vibration to match your dog's temperament. This ensures that the collar is both effective and comfortable for your dog.
Con
Reduced impact on highly determined barkers:

Extremely stubborn dogs may become desensitized to the vibrations over time, making the collar less effective at curbing their barking.
Why Collar Selection Is Crucial for Stubborn Dogs?
Choosing a bark collar is crucial for stubborn dogs due to their unique needs and temperament. Stubborn dogs may not respond well to a one-size-fits-all approach. Your best bet is to find a bark collar that is designed to work with your dog's temperament and the severity of their barking. By doing so, you can provide tailored corrections that will be more effective in stopping excessive barking.
How to Choose the Right Bark Collar for Your Stubborn Dog
What is the most effective barking collar? There is no simple answer to this question, as the most effective bark control collar will depend on your dog's needs.
If you're struggling to control your dog's barking, a bark collar may be a helpful tool. Here are a few things to consider when choosing a bark collar for your stubborn dog:
1. Type of Dog Bark Collar
There are various types of bark collars available, such as static, citronella, ultrasonic, and vibration collars. Each type has its unique way of correcting excessive barking. Consider your dog's temperament and your preferences when choosing the type.
2. Adjustability
Adjustable intensity is an essential feature for bark collars, especially for stubborn dogs. These dogs may require a stronger correction to deter barking. However, it is important to start with a low setting and increase it gradually as needed. Overcorrection can be counterproductive and may lead to anxiety or other behavioral issues.
3. Size and Fit
Ensure the collar is appropriately sized for your dog. It should fit snugly but not too tightly. Adjustable collars are beneficial, especially if your dog is still growing.
4. Durability
Stubborn dogs may be more likely to chew on their collar. Hence, opt for a durable collar that is made from high-quality materials.
5. Water Resistance
If your dog enjoys the outdoors, consider a water-resistant or waterproof collar to ensure it continues to function in various conditions.
PetsTEK Picks: The Best Bark Collars for Stubborn Dogs
Best for Dog Size: 8 pounds and up
The SportDOG NoBark SBC-R is an excellent static collar with unique bark detection technology that only activates when your pet barks. It has 3 programmable training modes and 10 static stimulation levels for customization.
This waterproof collar is submersible up to 10 feet and has a battery life of 200 hours per charge. It features Silent Partner™ technology that detects your dog's unique bark and can perform even in a room full of barking dogs.
Best for Dog Size: 35 pounds and up
The Dogtra YS600 No Bark Collar is a versatile bark collar that offers both static and vibration corrections. It also features advanced bark detection technology that filters out ambient noise to avoid false corrections.
This Dogtra no bark collar offers 10 correction levels and a pager for precise adjustment. It is rechargeable and waterproof, built to withstand even the most challenging conditions.
Best for Dog Size: 5 pounds and up
The BP-504 Barkless Pro Anti-Bark Collar has an advanced vibration sensor that accurately detects barking. This collar offers 9 levels of stimulation, 3 stimulation modes, and 3 different levels of bark sensitivity.
This Educator collar has a tone-only feature for users who prefer not to use static correction. This is waterproof and shock-resistant, ensuring its durability in any weather condition.
Best for Dog Size: for any size
The PetSafe Vibration Bark Control Collar utilizes Perfect Bark® Sound & Vibration Sensors that effectively sense your dog's barking. With 10 different vibration correction settings, you can personalize the correction level that your dog requires.
This collar comes with an automatic shut-off mechanism, which ensures that your dog is not overcorrected. Additionally, it features a color-coded LED battery life indicator that indicates when the battery needs replacement.
Best for Dog Size: 8 pounds and up
The PetSafe Rechargeable Bark Control Collar is an excellent choice for pet owners who want to keep their dog's barking in check. This collar uses dual detection technology to monitor bark sound and vibration before correcting.
With 15 levels of static correction, the collar automatically adjusts based on your dog's barking behavior. Plus, it's rechargeable and has a long battery life of up to 40 hours.
Conclusion
Ultimately, the most effective bark collar depends on your dog's individual needs and your preferences. By carefully considering these factors and choosing a collar that aligns with your
training goals
, you can effectively curb excessive barking and ensure a peaceful relationship with your beloved pet.
You might also enjoy...