Dogtra 2700T&B Remote Dog Training E-Collar
The Upland Hunting Remote Training Collar
1-Mile Range

127 Levels of Static Stimulation

Rheostat Dial

Adjustable Beeper Tone

LCD Screen

Fully Waterproof

For Dogs 35 Pounds and Up
Imagine hunting at an open field and wasting time on a good hunting day looking for your dog, yelling the whole time because you can't locate where your dog is. It can be an inconvenience not only for you but also for your hunting buddies. Don't be that guy.  
Unleash your bird dog's full potential by training them with the right E-Collar. Introducing the Dogtra 2700T&B remote training collar - now in a limited edition full orange set.
Upland Hunting Must Have
The Dogtra 2700T&B remote training collar is great for everyday use and is explicitly designed for upland hunting - no distraction of trying to figure out where your dog is on the field and enjoy the hunt.
You'll feel confident and have complete control over any situation, given the accuracy of this remote trainer's locator.
Range and Beeper Modes  
The 2700T&B e-collar has intensity stimulation levels from 0-127. It allows you to adjust levels according to your dog's needs. To track and monitor your dog, this remote trainer has 3 beeper modes:
Locate

Run/Point

Point Only
Beeper volumes are adjustable to suit the right level you need when hunting.
It also comes with:
Nick Stimulation

Constant Stimulation

Pager Vibration

 
Let your dog run up to a mile in the field and still locate them quickly and easily with this remote trainer's 1-mile range.
Performance Design and Durability  
The handheld remote has an excellent grip for easy use. With intuitively designed buttons, you'll get used to it in no time, making no-look operation easy. The LCD screen helps you track the intensity level and training mode you set for your dog and can easily be adjusted if needed.
Everything is pre-set before you go hunting on the open field and all you have to do is start hunting.
The Dogtra 2700T&B is durable enough to withstand open field obstacles like thick brushes and tall covers. This fully waterproof e-collar ensures you don't have to worry about the remote training collar malfunctioning in sloughs, either.  
The 2700T&B is less bulky than other similar remote trainers with a unique, single-body, downward facing beeper horn built into the receiver. It's the perfect companion for your outdoor adventures.
 

Dogtra 2700T&B Features Summary:
1-Mile Range

Rheostat/Volume Dial with Stimulation Levels 0-127

2-Hour Rapid Charge Batteries

Nick, Constant, and High-Performance Pager Vibration

Non-Stimulating High-Performance Pager

Adjustable High/Low Tone Beeper (1-Dog Unit Only)

Beeper Modes Run & Point, Point Only, and Locate

Combination Receiver Beeper Horn

Low to High Power Stimulation

Belt Clip

Fully Waterproof

LCD Screen

For Dogs as Small as 35 Pounds.
Package Inclusions: 
Waterproof Transmitter Remote

Waterproof Receiver Collar

Battery Charger and Splitter Cable

Test Light

Belt Clip

Owner's Manual
Dogtra - 2700 T&B Expandabl...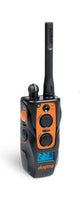 Dogtra - 2700T&B Transmitte...

Dogtra - 2700T&B - Training and Beeper - 1 Mile - Remote Training Collar
We offer free shipping on all orders of $49 and over. For all items under $49, a flat shipping rate of $5 will be applied to the order.
Orders placed after 1:00 pm EST will be shipped on the next business day. Most orders will ship within 24 hours, except if the order is placed on a Friday or before a national holiday, it will ship the next business day.
To minimize the risk of delaying your shipping, please ensure that the information you provided is accurate. Additionally, orders where the billing and shipping addresses do not match will automatically be cancelled by the system. 
We currently only deliver within the United States, and we do not ship to international addresses. We also do not ship to APO, FPO, or PO Box addresses at this time.
You will receive an email confirmation once your order is shipped. The email will include order details such as order number, purchased items, your address, and carrier tracking number.